Monthly commentary on timely investment and economic issues by Janney analysts Mark Luschini, Guy LeBas, and Gregory Drahuschak.
Key Takeaways —
A deeper look at the stock market correction.
The major themes that could affect fixed income this year.
Equities move on after volatile month.
A HEALTHY CORRECTION OR SOMETHING MORE?
Mark Luschini, Chief Investment Strategist
Market participants sold equities in January, as a confluence of factors sparked anxiety.
The Federal Reserve's sudden pivot toward tighter monetary policy, rising geopolitical tensions in Eastern Europe, the abrupt increase in bond yields, inflation running hot, and the lingering economic impact from the Omicron coronavirus, conspired to shake investors' enthusiasm for risk assets.
What the Markets are Doing
It is often difficult to unravel what is really worrying investors at any given time. However, we believe the most recent concerns were due to the sharp move in interest rates, which was further stoked by the Fed's hawkish shift in sentiment.
In our view, the selloff in equities since the start of the year marks a long overdue correction rather than the beginning of a bear market. After all, stocks often suffer a period of indigestion when bond yields rise suddenly, but usually bounce back if yields do not move into economically restrictive territory. With the 10-year Treasury bond at less than 2% and the Fed's policy-setting rate near zero, we do not believe yields are anywhere near the point at which they would serve to thwart the U.S. economy's positive pace of growth.
At the beginning of the year, the S&P 500 had gone 61 straight weeks without experiencing a 6% drawdown—the third longest stretch over the past two decades. Stocks were ripe for a pullback and almost any market-unfriendly news could have served to catalyze one. It seems the backup in bond yields provided a reason for the sellers to hit the tape. Not surprisingly, growth stocks fell hardest, as they are most vulnerable to changes in the long-term discount rate.
Growth Stocks Stumble
As of the end of January, the S&P 500 Growth index was down 8.4% for the year to date compared to a 1.6% decline for the Value index. For the stock market overall, valuations remain a bit stretched, leaving stocks vulnerable to more bouts of volatility. However, value stocks trade at a substantial discount to growth stocks and small-cap stocks appear quite cheap versus their large-cap peers. This leads us to favor these areas of the market.
Certainly, further caution would be warranted if we perceived the threat of a recession was approaching. History demonstrates it is rare that an equity bear market occurs without a concurrent recession. Corrections, on the other hand, can occur outside of recessionary periods, but for stocks to go down by what is typically defined as a bear market—20% or more—and stay down for a prolonged period, corporate earnings need to fall. That almost never happens unless there is a major economic downturn. In fact, the only time in the past 50 years the U.S. stock market fell by more than 20% outside of a recessionary environment was in October 1987.
We do not know when this correction will end, however, with domestic growth likely to remain solid, equity prices should rise. What gives us confidence that growth will hold up? Answer: Households are well endowed with more than $2 trillion of excess savings and banks are looking to expand credit, as the recent easing in lending standards signals.
The Broader Economic Picture
Leading indicators of capital spending are buoyant. Elevated inflation is concerning, but it has largely been driven by rising durable goods prices. Durables, including new and used vehicles, furniture and furnishings, building supplies, and IT equipment, are the one category of the inflation basket where prices usually fall over time, so this is an unlikely sustainable source of inflation. Granted, services inflation will accelerate this year as the labor market continues to tighten. However, rising service inflation is unlikely to overtake the spike that was generated from goods inflation.
Clearly, tensions between Ukraine and Russia have risen to a fever pitch which, in a draconian case, could destabilize global markets. Yet, a much more likely scenario is one where, if Russia invades, it executes a strategy through areas in which there are large Russian-speaking populations and/ or present access to the Black Sea. While a limited incursion would still likely invite sanctions from the U.S. and NATO allies, Russia's reaction function regarding its oil and gas exports to Europe will be tested.
The constraint on Russia is its economic dependence on those exports. For the time being, stock markets have been largely unmoved by the game theory being played out at the Ukraine border. Should this progress to a prospective market-moving event that could undermine our central case, we will respond with further updates. Stay tuned.

FOUR KEY FIXED INCOME ISSUES FOR 2022
Guy LeBas, Fixed Income Strategist
As typical for Investment Perspectives, this February fixed income article focuses on issues we believe will impact fixed income performance throughout the balance of the year.
In 2021, we identified inflation, fiscal adventurism, bank lending, and state budget deficit tolerance as major issues that would define bond markets for the year. Inflation and fiscal policy proved extraordinarily important, while bank lending growth has been gradual and state deficits were patched up by federal support. This year includes a continuing issue from last year and the reappearance of an issue that was on the table back in 2018. The risks of the top issues of 2022 largely skew toward the downside for fixed income returns.
Inflation
Inflation returns as the top issue for fixed income markets for a second consecutive year. In 2021, we noted that economic growth and deficits were pre-loading for a potential bounce-back in inflation. Well, with data for the full year in hand, that is clearly the case—we never guessed the CPI would have a 7% handle.
While the demand surges that led to recent price spikes could fade by mid-2022, the risk is that inflation settles around a 3% CPI, thanks to an undersupplied housing market and wage hikes leading to higher prices in both residential and service sectors. Unfortunately, the economic society has a horrible track record of predicting inflation, and higher inflation risks higher interest rates.
Chart 1: Elevated inflation will decelerate on its own, but to what level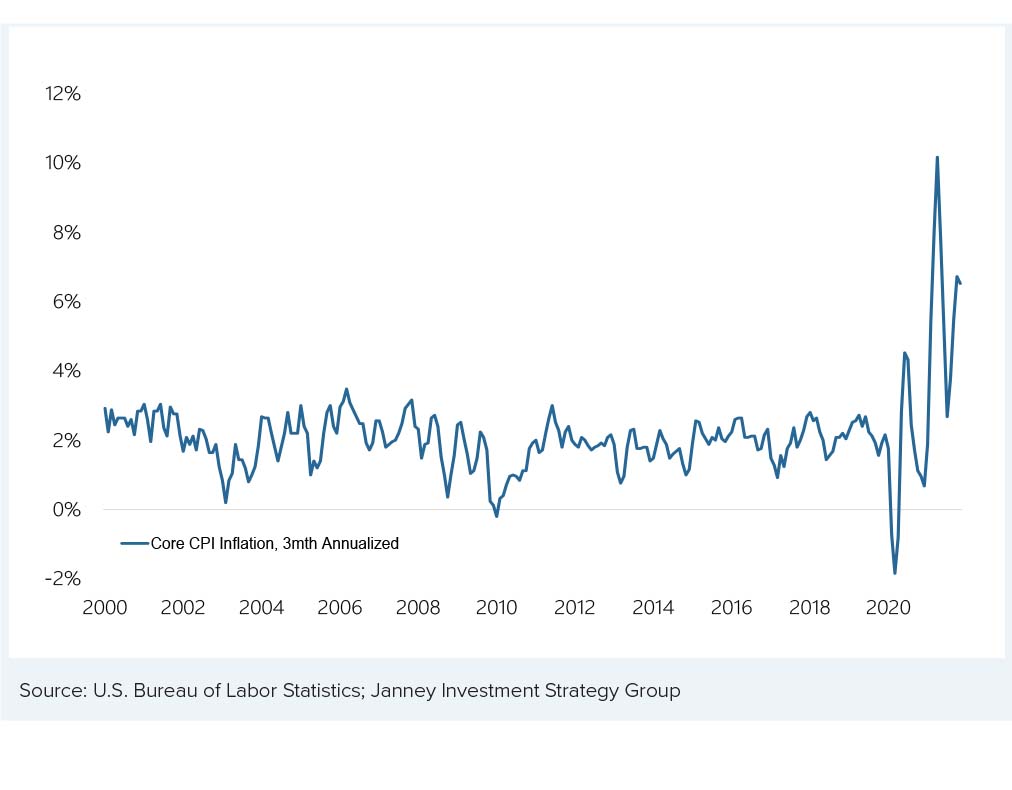 Peak Fed Funds Rate
"Peak fed funds rate" is the term for the rate at which the Federal Reserve stops hiking overnight interest rates. In the last cycle, 2.5% was the peak, which turned out to be slightly contractionary for the economy. Anything higher than "neutral" nterest rates is contractionary, and in the mid-2010s, economists settled on "neutral" as roughly 0% plus inflation, or about 2%.
For this cycle, neutral might be a bit higher (the reasons why are complicated), and if inflation settles above 2%, the Fed will need to go past neutral. We could see the peak fed funds rate for this cycle not at a benign 2%, but a significantly contractionary 3-4%, which also risks higher interest rates. Our best guess for neutral is 2.5% right now, which is a bit higher than the market has priced.
Chart 2: Markets currently imply the peak fed funds rate at 2%, but could rise significantly as 2022 progresses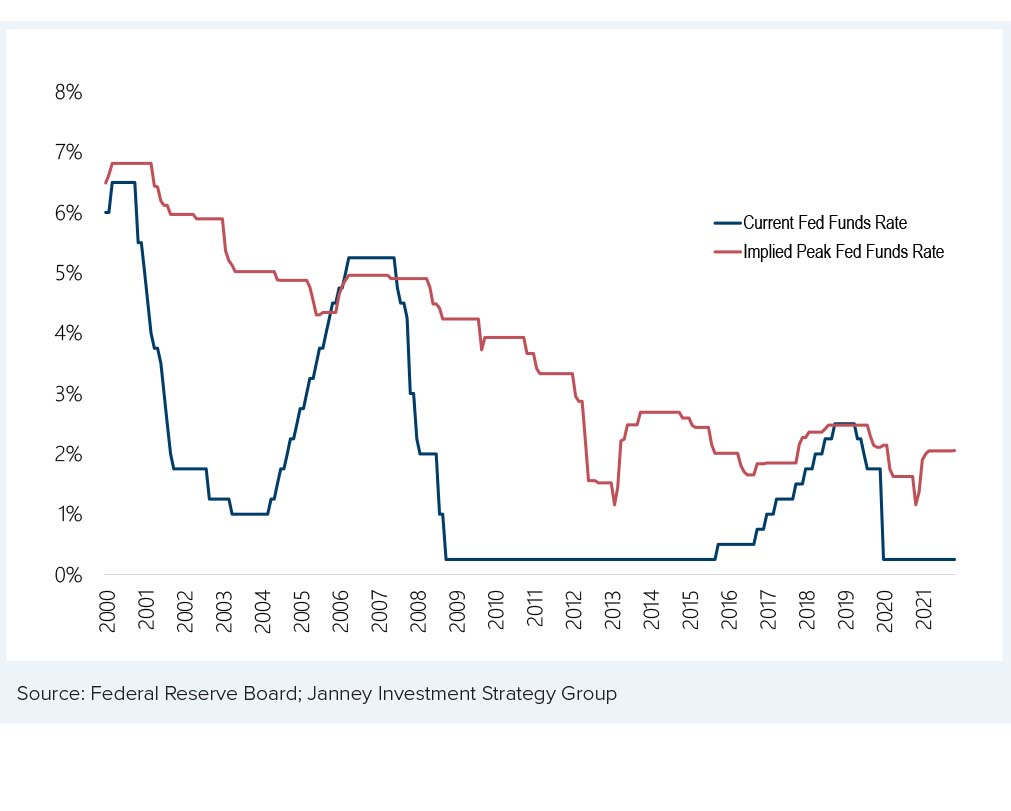 Supply Chain
The supply chain is a catch-all term that describes how goods get from their point of manufacture to their point of consumption (we published a report about the supply chain in November, so will limit discussion in this note). At present, many aspects of the supply chain are snarled. How and when they unsnarl is an important input into the timing of both inflation and growth. This timing is perhaps the biggest input to macroeconomic variables— and it is too complex to model effectively. If seemingly intractable problems like microchip shortages turn into a glut, goods inflation will quickly turn into goods disinflation.
Pension Flows
The final key issue we see for the bond markets in 2022 is the decentralized decisions pension managers take. In the past two years, rising equity markets have left pensions (public and private sector) in better funding status. Most pension advisors recommend pensions de-risk in this situation and sell stocks to buy bonds to better secure their retiree payouts. We anticipate this theme will add to demand for bonds and help keep rates somewhat compressed in 1H 2022. However, should pensions choose not to reallocate, or should equity values drop and disincentive the reallocations, the liftoff of long-term interest rates could be quicker than we anticipate.
FED DREAD RETURNS
Greg Drahuschak, Market Strategist
Directionally, January 2022 shared a common problem with the Januarys of 2020 and 2021, but the cause of the loss this year was vastly different.
In both 2020 and 2021, COVID-19 weighed on the economy and the stock market. The Omicron variant of the virus was the catalyst for continued concern this year, but the economic impact was significantly lower than in the previous two years.
After years of an extremely accommodative credit policy, fear that the Federal Reserve Open Market Committee (FOMC) would tighten credit weighed heavily on stocks. This, in combination with geopolitical concerns and lessthan-ideal guidance from a few companies, kept stocks under pressure throughout this January.
January Woes
Late last month, the S&P 500 was down as much as nearly 9% in what would have been the worst January loss since 1950. A late-month rally, however, allowed the S&P 500 to post the seventh-worst January result with a 5.26% loss.
The cliché, "as January goes, so goes the year," was on investors' minds during the month. The January effect, as it is called, has been correct in the last 71 years many more times than not. In the 22 years from 2000 through last year, however, the January effect has not lived up to its reputation, as it correctly indicated a full-year positive or negative result only 11 times. January 2020 saw the S&P 500 fall 0.16% and 8.41% in February, but it ended the year up 16.26%. The January barometer cliché was off the mark in 2021 also. The S&P 500 fell 1.11% in January but went on to post a 26.89% full-year gain.
The Santa Claus rally—the first five days of January—and the January barometer often provide clues as to the market's annual fate. This year, only the Santa Claus rally had a positive conclusion. According to CFRA-Standard & Poor's, since 1928 and 1945, whenever this combination occurred, the S&P 500 was lower for the full year, with 12-month declines of 9.2% and 9.6%, respectively, and losses in all years but 2014 out of the nine occurrences since 1928 and eight since 1945.
Fed Sets Stage for Rate Hike
The FOMC alerted the market of a change in credit policy when its January 26, 2022, statement said, "With inflation well above 2 percent and a strong labor market, the Committee expects it will soon be appropriate to raise the target range for the federal funds rate. The Committee decided to continue to reduce the monthly pace of its net asset purchases, bringing them to an end in early March." That day the 10-year Treasury note hit a session high yield at 1.857%. Anticipation that the FOMC would act to raise interest rates, however, on December 19, 2021, sent the 10-year rate to 1.874%, which was its highest level since December 2019. Later, continuing market turmoil generated defensive buying that eventually led the rate to slip back to 1.782% as January ended.
An obvious effect of rising interest rates might be earnings multiples stagnating or slipping modestly. The market's fate then would rest largely on earnings growth.
By the end of January, the 2022 estimate at $221.67 was 6.15% above the initial $208.83. At that time, nearly 77% of companies that had reported fourth-quarter results exceeded consensus earnings estimates, which was in line with the five-year average. Still, highly liquid consumers and corporations suggest there is little concern about corporate earnings this year, which we think are on an eventual path to $225 and possibly higher.
The biggest issue in February might be the market's technical posture, which suffered a few setbacks in January. The potential for a retest of the S&P 500 pullback low at 4,222.62 should not be ignored, but another pullback could encounter volume and price support for the index not far below the January low.
Disclaimer
The information herein is for informative purposes only and in no event should be construed as a representation by us or as an offer to sell, or solicitation of an offer to buy any securities. The factual information given herein is taken from sources that we believe to be reliable, but is not guaranteed by us as to accuracy or completeness. Charts and graphs are provided for illustrative purposes. Opinions expressed are subject to change without notice and do not take into account the particular investment objectives, financial situation or needs of individual investors.
The concepts illustrated here have legal, accounting, and tax implications. Neither Janney Montgomery Scott LLC nor its Financial Advisors give tax, legal, or accounting advice. Please consult with the appropriate professional for advice concerning your particular circumstances. Past performance is not an indication or guarantee of future results. There are no guarantees that any investment or investment strategy will meet its objectives or that an investment can avoid losses. It is not possible to invest directly in an index. Exposure to an asset class represented by an index is available through investable instruments based on that index. A client's investment results are reduced by advisory fees and transaction costs and other expenses.
Employees of Janney Montgomery Scott LLC or its affiliates may, at times, release written or oral commentary, technical analysis or trading strategies that differ from the opinions expressed within. From time to time, Janney Montgomery Scott LLC and/or one or more of its employees may have a position in the securities discussed herein.
About the authors