We are often asked about the best options for generating portfolio income, especially given today's low interest rate environment. This piece reviews important income-generating asset classes and includes ideas from various Janney disciplines, including the Investment Strategy Group, Wealth Management, and Capital Markets.
Different Types of Asset Options
The Investment Strategy Group has always advocated for holding a healthy amount of blue-chip stocks and bonds as the core portion of a portfolio. Due to their consistent cash-generation capabilities, blue-chip firms have a strong capacity to meet their bond coupon payment obligation and fund growing dividends.
Dividend-Paying Stocks
We view owning high-quality stocks as important because they can help maintain purchasing power. While they can be subject to short-term bouts of volatility, over longer timeframes they have proven to be the critical element for portfolio growth that maintains purchasing power and generates wealth.
While conservative investors may lean toward the more defensive sectors of the market, we see high-quality dividend opportunities across all sectors of the economy.
The defensive sectors of the market include Utilities, Consumer Staples, and Health Care. These sectors are considered defensive because their earnings typically hold up better during tough economic times. Consequently, they are perceived as lower risk and typically perform relatively better during times of market turbulence when the economic outlook is uncertain. Stable earnings typically result in high, growing dividends for many firms within these sectors.
The Technology sector has many secular drivers that were accelerated by the pandemic. This is translating into well-supported, growing dividends for many Tech firms that could be considered for core holdings of income portfolios.
While the Consumer Discretionary, Financials, Industrials, and Materials sectors are considered cyclical sectors with earnings closely tied to the economy's performance, there are many high-quality firms within these sectors that have healthy and growing dividends. Many of these firms should be considered for core portfolio holdings.
Uncertainty surrounding the economic outlook and future profitability are key risks for stocks, while firm-specific risks are always present for individual stocks. Owning a well-diversified portfolio of stocks is always recommended.
Investment-Grade Bonds
Investment-grade bonds are issued by government entities or firms that have a strong ability to meet their financial obligations. These bonds are backed by stable, reliable cash flows and have a low risk of default relative to less creditworthy bonds (non-investment-grade, high-yield, or junk bonds).
Treasuries
U.S. Treasuries are considered the safest investment-grade bonds and consequently have relatively low interest rates (yields) because of their low-risk nature. Treasury yields are now trading higher after reaching historically low yields—demand for safe-haven Treasuries spiked early in the pandemic, causing their price to rise and yield to drop (bond prices move opposite of interest rates).
Given that they lose value as interest rates move higher, Treasuries face the risk today of interest rates moving still higher. The Federal Reserve (Fed) has begun the process of normalizing interest rates in response to the strong economic recovery and corresponding inflationary pressures as we approach full employment and supply-chain problems persist.
Investment-Grade Corporate Bonds
Investment-grade corporate bonds usually track Treasury yields and underlying interest rates closely.
However, they offer higher yields than Treasuries because of their higher risk of default. They are still trading at low yields since they track Treasuries and since the perceived default risk is low as the outlook for economic growth remains positive.
The potential for higher interest rates as the Fed embarks on interest rate normalization is a risk facing corporate bonds, similar to Treasuries. Higher defaults are another potential risk, if economic growth were to falter.
Non-Investment-Grade Bonds
Non-investment-grade or high-yield bonds (also called junk bonds) are bonds that pay higher interest rates because their cash generation needed for interest payments is less reliable than investment-grade bonds. High-yield bonds are more likely to default, so they must pay a higher yield to compensate for higher risk. The fortunes of the issuer of high-yield bonds are closely tied to the economy's performance, with the probability of default rising in times of economic stress. Consequently, the performance of high-yield bonds is correlated with the economic cycle.
During the early stages of the pandemic, high-yield bonds significantly underperformed investment-grade bonds, anticipating high defaults. Economic improvement, supported by massive government stimulus, has led to strong performance in high-yield bonds, with defaults remaining low.
Our Chief Fixed Income Strategist still favors 1- to 5-year (short-term) high-yield bonds across the ratings spectrum for those with the risk budget to handle them. He believes interest rates are likely to continue rising in 2022 and possibly into 2023, so it's advisable to remain in relatively short-duration securities. In addition, credit conditions— corporate liquidity, balance sheet, and income health—are all near the best they've been in history. That combination of likely rising rates and yet strong credit performance means that investors seeking to generate income could take more credit risk and less interest rate risk to earn returns. Short-term high-yield hits that balance well.
Floating-Rate Bonds (Floaters)
Our Chief Fixed Income Strategist also favors floating-rate bonds. Floating-rate bonds, for the first time in a while, might be an interesting way to generate incrementally more income in 2022 and beyond. Floaters, as they are sometimes called, have coupons which reset according to changes in short-term interest rates. We anticipate the Federal Reserve will raise short-term interest rates three times in 2022 and more in 2023, which will trigger increases in the coupons of floating-rate bonds (although specific bonds will vary depending on their structure). Investors can access floating-rate bonds with individual purchases, via ETF, or via senior floating-rate income funds. The latter are managed funds which typically contain floating-rate high-yield loans.
Preferred Stocks (Preferreds)
While preferred stock comes with no voting rights, it usually entitles the holder to a fixed dividend in perpetuity. This dividend payment takes priority over that of the common-stock dividend, but is subordinate to the bondholders. Consequently, preferred dividends offer a more secure income stream relative to the common stock dividend, but less secure than bond interest payments.
Like bonds, preferred shares also have a par value which is affected by interest rates. Since most preferreds are perpetual securities (meaning they have no maturity date) they are very sensitive to changes in interest rates. This presents a headwind in a rising interest rate environment.
Preferred securities typically have a call feature that allows them to be redeemed by the issuer at face value five years after the offering date. This feature limits the upside in their price.
Our Chief Fixed Income Strategist thinks a subset of preferred securities are poised to do well. Preferreds are one of the few sectors where 4%+ yields are available, though interest rate risk, as well as credit risk, are considerable in the sector at large. To mitigate interest rate risk, he prefers fixed-to-float (securities which start out life as fixed rate and then convert to floating rate after usually 5 years) and high-coupon (above 5%) preferreds. Overall credit risk in the preferred markets is favorable, as corporate credit metrics remain near their best points in history.
He cautions that while yields are attractive in preferreds, it's important to be mindful of extreme duration risk by avoiding securities with low "fixed for life" coupons as well as to avoid concentration in the banking sector, as banks account for a large portion of preferreds outstanding.
Convertible Bonds (Converts)
Convertible bonds are hybrid securities that allow the owner to receive cash or a specified number of common stock shares in the issuing company at the bond's maturity (essentially a bond with an embedded call option on the common stock). They pay a coupon like a bond while the stock conversion feature becomes more valuable as the stock price rises. The bond-like feature can provide downside protection in volatile markets, while the stock conversion feature allows for participation in stock price appreciation.
Converts have default risks like other corporate bonds and the stock conversion feature (the embedded call option on the common stock) loses value when the stock price falls. We have a favorable outlook for this asset class, given our favorable outlook for the economy and stock market.
REITs
A real estate investment trust (REIT) is a company that owns, and in most cases operates, income-producing real estate. REITs own many types of commercial real estate, ranging from office and apartment buildings to warehouses, hospitals, shopping centers, hotels, and commercial forests. REITs must pay out at least 90% of their taxable income to shareholders, which typically results in a relatively high dividend yield.
The major risks for REITs include default risk and higher interest rates. Their performance has been correlated with bond yields and higher interest rates pose a potential headwind.
After a better-than-expected 2021, our Janney Capital Market's REIT analyst has more modest expectations for REITs in 2022, especially given that REITs have not produced consecutive years of 20%+ total returns since 2009/2010 and have done so only three times in the past 25 years. While the group should benefit from strong operating fundamentals in key subsectors like industrial, residential, and storage in 2022, stubbornly high inflation and concerns over rising interest rates have become headwinds in early 2022. Continued interest rate and inflation fears coupled with already rich REIT valuations (REIT valuations have expanded roughly 25% over the last year) has him looking for a more modest 10% total return from REITs over the next year (with roughly 3% of that coming from the dividend).
He remains bullish on Industrial REITs based on strong fundamentals driven by e-commerce demand and the stockpiling of goods given continued supply-chain issues. Residential fundamentals (especially apartments) are as strong as he's seen them in his 25+ years in the space. He also expects storage to continue its positive 2021 momentum given less supply overhang. However, these REIT subsectors already trade at a very high absolute and relative valuation that are likely to somewhat limit their 2022 upside.
On a relative basis, he would continue avoiding traditional retail (malls and shopping centers), hotels, health care (excluding medical office) and office given a challenging combination of both secular and COVID-related issues. He is neutral on Towers, Triple-Net, and Data Centers.
Business Development Companies (BDCs)
A BDC makes loans to businesses that are not publicly traded. BDCs typically pay out high-dividend yields, as their profits are not subject to corporate taxes (investors receive a 1099). BDCs are considered risky investments, as credit losses could cause them to under-earn their dividend, essentially returning capital to investors, which reduces book value. A lower-risk alternative to equity are BDC "baby bonds," which typically yield around 5% for a 5-year maturity. Our favorable outlook for the economy should provide a tailwind for BDCs to earn their dividend in 2022. Municipal Bonds (Munis) Munis are debt securities issued by state and local governments. These can be thought of as loans that investors make to local governments, and are used to fund public works such as parks, libraries, bridges & roads, and other infrastructure. Munis can be tax-exempt or taxable.
Tax-Exempt Municipals: Interest paid on municipal bonds is often tax-free, making them an attractive investment option for individuals in high tax brackets.
Taxable Municipals: This asset class has grown rapidly since 2017's tax changes, which stipulate that state and local governments that want to refinance older high-rate tax-exempt debt before maturity must do so in the taxable muni market. Yields generally exceed those on like-rated corporate debt and are in the range of 1.5% to 5.5%, depending on maturity and credit quality.
While our Chief Fixed Income Strategist saw compelling valuations last year, he now thinks they are just OK today for this asset class.
Master Limited Partnerships (MLPs)
An MLP or publicly traded partnership is a publicly traded entity taxed as a partnership. It combines the tax benefits of a partnership with the liquidity of publicly traded securities. To obtain the tax benefits of a pass through, MLPs must generate at least 90% or more of their income from qualifying sources such as from production, processing, storage, and transportation of depletable natural resources and minerals.
Many MLPs are tied to oil and gas production and their value can fluctuate significantly based upon oil and gas prices. K1 tax forms are issued to MLP owners, which complicates tax filing. Given our favorable outlook for the economy and energy fundamentals, we believe MLPs might perform well in 2022.
Income-Producing Alternatives
Our Director of Wealth Management Research continues to see opportunities for income in Private Real Estate and Private Credit, within the income-producing alternative space.
It should be noted that investors accessing these types of strategies are generally required to meet SEC-mandated net worth requirements prior to investment.
Private Real Estate—Core Commercial
Core commercial real estate is an income-focused alternative investment strategy that involves buying and holding fully developed real estate properties. Strategy returns are generated from the tenant lease payments, which are distributed to investors through ongoing income distributions, as well as through modest capital appreciation should the properties rise in value over time.
Compared to publicly listed REITs, returns are driven purely by the performance of the underlying real estate assets versus listed REITs, which trade as stocks and can often be more correlated with equity markets than with real estate property prices. Over the long term, investors can expect fund yields in the 4-6% range net of fees, although this will vary depending on the specific fund and market environment.
Private Credit—Direct Lending
Direct lending (as opposed to traditional bank lending) is another investment strategy common with income-seeking investors in which fund managers will make direct, whole loans to private companies.
Returns are derived from the underlying loan interest payments, which generally pay a floating rate on top of a credit spread determined by the borrower's level of credit risk.
While there is a wide range of borrowers in the private market, a large percentage of companies are of lower credit quality, so investors considering purchasing a direct lending fund should be prepared to assume a fair amount of credit risk. Over the long term, investors can expect fund yields in the 6-8% range net of fees, although this will vary depending on the specific fund and market environment.
Mutual Funds, ETFs, Closed-End Funds, and UITs
Our Head of Investment Company Products sees income opportunities within several different fund products.
Mutual Funds: Mutual funds come in many different forms and typically offer active portfolio management in a diversified portfolio. The income they offer typically ranges around 1.5% to 3.5%
Exchange-Traded Funds (ETFs): ETFs are similar in many ways to mutual funds, except that ETFs are bought and sold throughout the day on stock exchanges while mutual funds are bought and sold based on their price at day's end. ETFs also come in many forms today and usually passively track indices. Passively tracking indexes typically results in relatively low fund expenses which can help overall investment performance. The income they offer typically ranges around 1.5% to 3.5%.
Closed-End Funds (CEFs): A closed-end fund is a portfolio of pooled assets that raises a fixed amount of capital through an initial public offering (IPO) and then lists a fixed number of shares for trade on a stock exchange.
Like a mutual fund, a closed-end fund has a professional manager overseeing the portfolio and actively buying and selling securities.
Closed-end funds may offer the potential for higher regular income than other types of investment products because of their ability to use leverage (they borrow at short-term interest rates and buy securities with longer-term maturities, which can enhance fund income). However, the leverage used to create the additional income causes CEFs to exhibit more volatility than other investment solutions. The yields these investments offer are about 6% to 8% for taxable funds and 4% to 5% for tax-free funds.
Unit Investment Trusts (UITs): A UIT is an investment company that offers a fixed portfolio, generally of stocks and bonds, as redeemable units to investors for a specific period of time.
They are designed to provide capital appreciation and/or dividend income. Income-producing UITs have yields around 2.5% to 4% and typically pay consistent monthly income.
Summary of Income-Producing Asset Options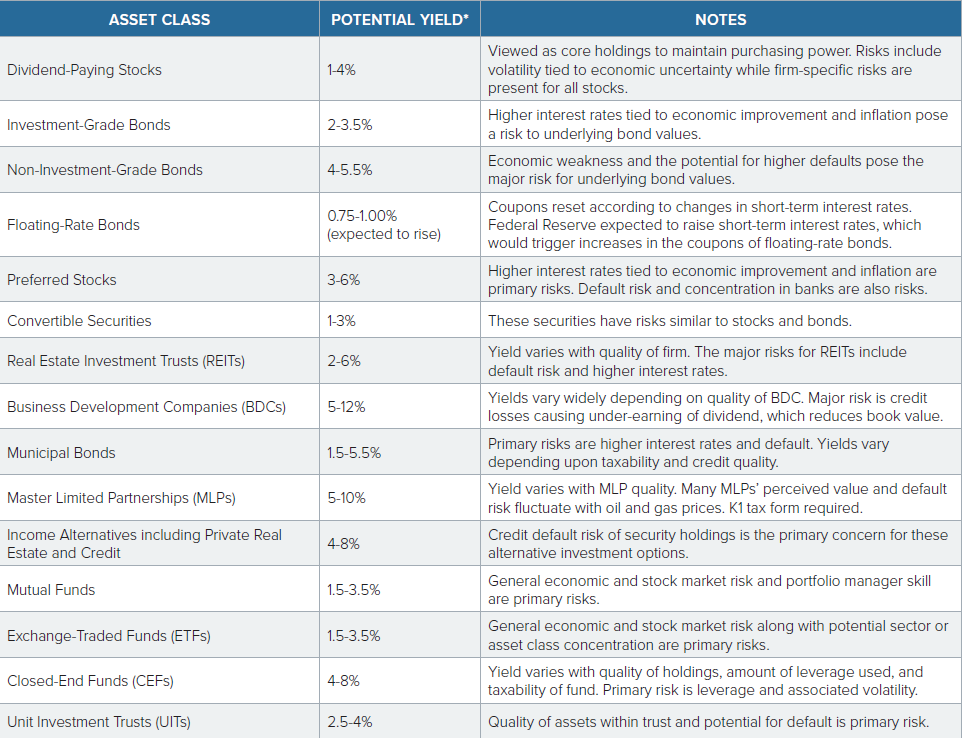 * The potential yields quoted are sourced from Bloomberg, company, and investment fund websites and product fact sheets. The yields represent a sample of the products out there that may or may not be indicative of current yields available. Consult your Financial Advisor for more information on specific products
---
Disclaimer
This report is provided for informational and educational purposes only and shall in no event be construed as an offer to sell or a solicitation of an offer to buy any securities or a recommendation for any strategy or to buy, sell, or hold any product. Opinions expressed are subject to change without notice and do not take into account the particular investment objectives, financial situation, or needs of individual investors.
Employees of Janney Montgomery Scott LLC or its affiliates may, at times, release written or oral commentary, technical analysis, or trading strategies that differ from the opinions expressed here. The information described herein is taken from sources which we believe to be reliable, but the accuracy and completeness of such information is not guaranteed by us. The opinions expressed herein may be given only such weight as opinions warrant. This Firm, its officers, directors, employees, or members of their families may have positions in the securities mentioned and may make purchases or sales of such securities from time to time in the open market or otherwise and may sell to or buy from customers such securities on a principal basis. This report is the intellectual property of Janney Montgomery Scott LLC (Janney) and may not be reproduced, distributed, or published by any person for any purpose without Janney's prior written consent.
This presentation has been prepared by Janney Investment Strategy Group (ISG) and is to be used for informational purposes only. In no event should it be construed as a solicitation or offer to purchase or sell a security. Past performance is no guarantee of future performance and future returns are not guaranteed. There are risks associated with investing in stocks such as a loss of original capital or a decrease in the value of your investment. For additional information or questions, please consult with your Financial Advisor

About the author