Monthly commentary on timely investment and economic issues by Janney analysts Mark Luschini, Guy LeBas, and Gregory Drahuschak.
Key Takeaways —
Checking in on the still booming housing market.
How does global conflict affect fixed income?
Patience will be key as investors navigate stocks' volatility.
Taking Stock of Housing
Mark Luschini, Chief Investment Strategist
The housing market has been booming and the narrative as to why is well known.
Heightened demand, coupled with constrained and falling supply, has caused prices to soar. The most recent release of the S&P CoreLogic Case-Shiller U.S. National Home Price Index (a popular gauge of home price changes taken from cities across the United States) showed an increase of 1.3% just in the month of December—the most in four months. The year-over-year change of 18.8% has slipped from its peak of a 20.0% yearly gain reported last August, but that pace is still near record levels.
Strong Demand, Shortage of Supply
The combination of job gains, wage growth, low mortgage rates, remote work capabilities, and generous fiscal support programs conspired to stoke demand. Contributing to the gains in home prices is the shortfall of supply that was partially induced by the shortages of construction materials, labor, and land, in addition to some areas where supply was curtailed by restrictive regulations on building. Also driving incremental demand is the search for second homes, as well as large institutional buyers who are acquiring huge numbers of homes to fix and rent, or to repackage and sell. Collectively, it has led to a record-low level of inventories relative to sales.
According to the National Association of Realtors, the current inventory of new homes relative to sales stands near its long-term trend of around six months, but there is less than two months of inventory for existing homes. Combined, the dearth of housing stock available for sale is often leaving the quest for a new home by the pool of potential buyers unquenched.
However, as interest rates move higher, mortgage rates have followed. The rising cost of a home mortgage, plus the price increases in both new and existing homes, has reduced affordability. According to the National Association of Realtors, housing affordability slipped to a six-month low in December. An accompanying survey referenced from the home builders' association (NAHB/ Wells Fargo Housing Opportunity Index measures the percentage of homes sold in a quarter that were considered to be affordable to a family earning the median income in the U.S.) slid in the fourth quarter of last year to its lowest level since 2008.
Demographic Trends
Wage growth and the jump in households' holdings in financial assets will help to offset some of the increased cost, but it could serve to crowd out many first-time buyers, an important source of housing activity. In fact, in the last report on existing home sales, first-time home buyers represented just 27% of sales, down from 33% the year before. Contrast that with individuals who bought a second home at 22% of sales, up from 15% a year before, to illustrate the impact of a tightening market on the mostly younger, rent-to-own cohort.
Still, a recent survey from the National Association of Home Builders reported sentiment among this group is elevated. Respondents stated they remained optimistic but did acknowledge some softening in sales expectations and buyer's traffic. This is worth monitoring but, in our view, it doesn't present more than a nearer term concern. The reason is the underlying fundamentals for housing remain quite solid.
Certainly, higher mortgage rates and home prices are going to counteract the appeal of owning a home in lieu of renting even as household formation is occurring at a rapid rate. Some estimates suggest the market is undersupplied by more than 2 million homes today. Although housing stock should increase as supply chains normalize, and builders catch up with their steep backlogs, the demographic driver of demand remains a powerful tailwind for demand to outstrip supply for an extended period of time to come.
In particular, the huge population of Millennials, those generally identified to fall in age between mid-20s and early 40s, are starting families, have pets, and can often work remotely or in a hybrid fashion. Faced with rents that have increased rapidly, homeownership poses an attractive and even economically competitive alternative especially given its means to build equity in an asset that historically has offered value to those who hold it long term. Arguably, the increase in home prices and mortgage rates could further incent buyers to purchase now in anticipation of costs becoming higher in the months ahead should they wait.
Summary
The secular nature of the demographic trends and the imbalance in the supply/demand equation could make housing a robust industry for investment now and in the coming years. Indeed, owning a house as an investment has been quite profitable if purchased at the right time or in the right market. However, in the aggregate and over the long term, housing has appreciated at an annual rate slightly better than that of inflation.
In regards to additional investment opportunities, it might be worthwhile to consider housing industry participants such as home builders, do-it-yourself (DIY) retailers, and furnishing manufacturers, to name a few.
Please consult your Janney Financial Advisor to discuss in more detail the housing-related areas most fertile for investment.
Fixed Income in Times of Conflict
Guy LeBas, Chief Fixed Income Strategist
Geopolitical stress ratcheted up significantly in recent weeks. While there are terrible humanitarian tragedies and potentially concerning international relations outcomes from the Ukrainian conflict, our domain is the financial markets broadly, and the bond markets in specific. Typically, in the early stages of a geopolitical crisis, we see the financial markets seek out the quality and relative safety of long-term Treasuries. We have much evidence from prior international conflicts about how this process ends, although when it ends is another question entirely.
Market Response to War in Ukraine
On February 24, 2022, the Russian Army launched an invasion of Ukraine. That event marked the culmination of a military buildup that began in November 2021, but started to grab financial market attention starting in late January 2022.
Despite this attention, fixed income market response was very much muted. Between that period and mid-February, 10-year Treasury yields rose 0.24% to a peak of 2.04%, signaling reduced, not increased, demand for safe-haven assets.
A messy evolution of inflation data, as well as rapidly shifting Fed rate hike expectations, muddied the picture considerably. Between the release of January consumer price index (CPI) inflation numbers and the February 24 invasion, we witnessed a considerable reversal, with safe-haven buying in Treasuries causing 10-year yields to fall -0.32% to a trough of 1.73% the day after the invasion.
Historically, for conflicts that have been distant from American shores, the safe-haven bid in Treasuries has lasted for several days to roughly two weeks. In the last 40 years, we identified 10 conflicts with significant involvement from global geopolitical powers. On average, 10-year Treasury yields have declined in the early stages of those conflicts by -0.25%— though the range is quite broad from -0.47% at the extremis to -0.07% on the other side.
Table 1: World Conflicts and 10-Year U.S. Treasury Yields

Across those conflicts, it has taken an average of eight days for Treasury yields to bottom. On average, the reversal has been slightly larger than the decline in yields, and that reversal has taken an average of nine days. Financier Nathaniel de Rothschild supposedly once declared that equity investors should "buy on the sound of cannons," although the quote is probably apocryphal—made up later by a biographer. Regardless, the evidence suggests that, when it comes to safe-haven assets, "sell on the sound of cannons" has historically been a better plan.
Don't Panic
The message underlying the historical evidence is that, for all but a handful of extreme events, safe-haven buying in longer-term U.S. Treasuries culminates in the early stages of a geopolitical conflict. Panic buying Treasuries is rarely a profitable trade beyond a few days. Another way to look at the buying is that, in most cases, the initial nervous reaction to conflict is financially overblown. What matters in the intermediate to longer term is the economic implications of any conflict. At least for most in the last 40 years, the economic implications for large, developed economies has been small.
Obviously, there is a chance that any conflict expands to impact additional countries and economies. If the current war in the Ukraine expands—we have no good way to quantify that chance—there are risks to the eastern reaches of the European Union. The EU's economy is close to the size of the U.S. economy, so any conflict which drags EU member nations in could spur resurgent risk aversion. For many reasons— humanitarian, economic, and financial—we certainly hope that does not happen. But absent that sort of expansion, Russia's invasion of Ukraine is not likely to pull Treasury yields lower.
Waiting for the Turn
Gregory M. Drahuschak, Market Strategist
It might not have been a classic "black swan" event, but the impact of the Ukraine situation had a disturbing effect.
Turmoil in Ukraine is nothing new, but the memory of Russia's seizure of Crimea in 2014 was not in the forefront of almost anyone's mind. Recent events, however, rapidly changed that. In addition, several technical vulnerabilities made the market particularly susceptible to the Ukraine events.
Investors Seek Safety
As January ended, there was potential for a retest of the S&P 500 pullback low at 4,222.62. Exactly a month later, that retest failed as the S&P 500 slumped nearly 108 points below the January low. A rapid bounce off this new low suggested that perhaps the market had found a durable bottom. Classic signs that a major bottom was made, however, were not present in the late-February recovery attempt.
Chart 1: Year-to-Date 2022 Sector Percentage Changes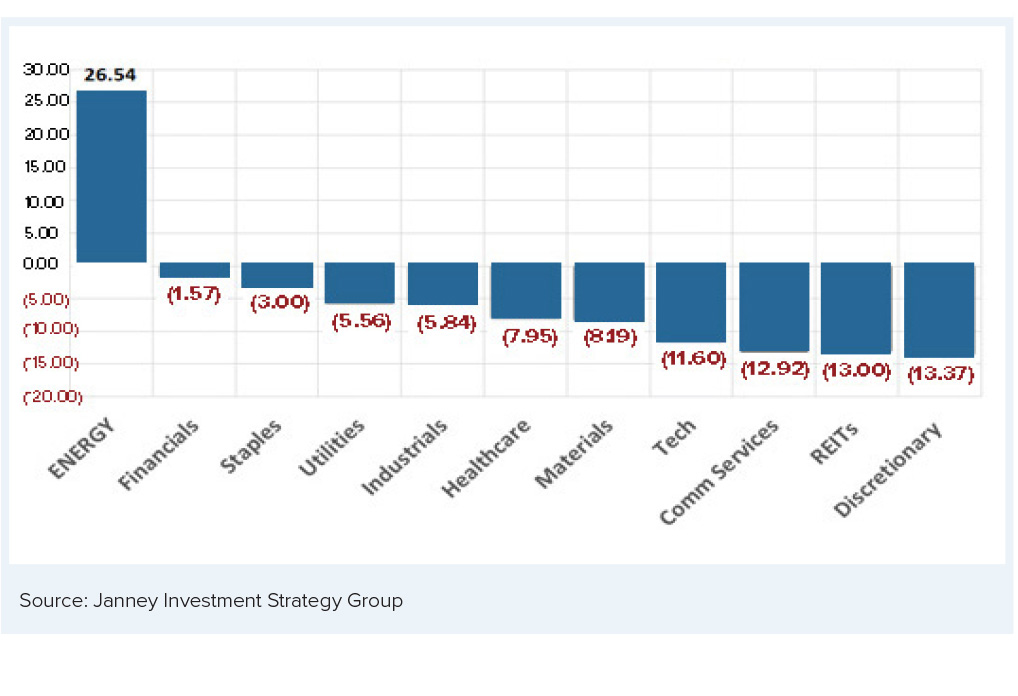 Chart 2: CBOE 10-Year U.S. Treasury Note Yield Index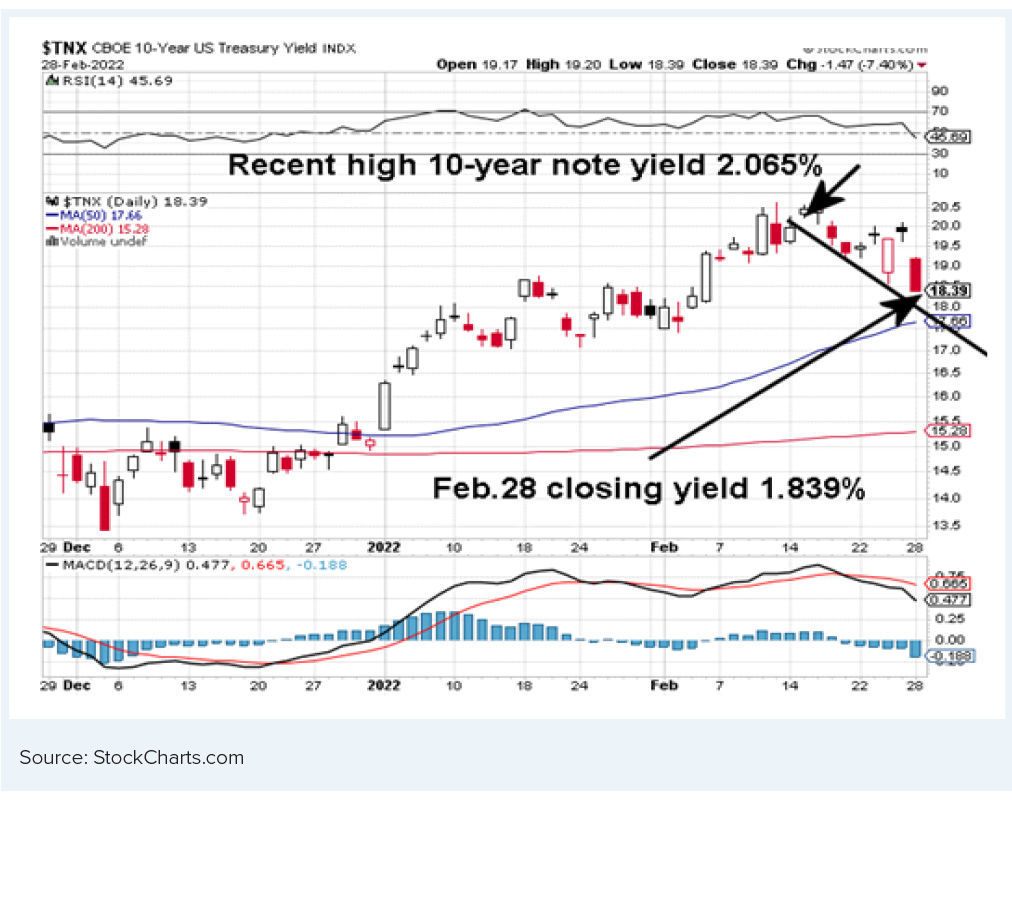 The market's sector results so far this year reflected the more cautious approach the Ukraine situation created, as well as the major increase in the price of oil. Defensive positioning shoved bond rates lower.
Corporate earnings were not a problem. Consistently rising earnings made the market drop ever more enticing as it whittled away at what had become stretched technical and valuation conditions.
According to data assembled by FactSet, the S&P 500 forward price/earnings (P/E) ratio fell below the five-year average for the first time since the virus-impacted level of the second quarter of 2020. Five sectors had forward 12-month P/E ratios below their five-year averages, but P/E ratios for six sectors were above their five-year averages. The late-February drop helped ease the technical overbought condition of the S&P 500.
Brace for More Volatility
It is foolhardy to guess at when the strife in Ukraine ends, but until there are good indications, elevated market volatility is likely. On the other hand, the effect of Federal Reserve policy is more easily assessed.
In contrast to what is commonly believed, stocks generally fare well in a rising rate environment. Falling interest rates tend to produce better market results than periods of rising rates, but during the five rate-hike cycles since the mid-1990s, the S&P 500, Dow Jones Industrial Average, and the Nasdaq Composite all had gains. There were losses in these indices in only one of the rate-hike cycles. On the other hand, in two of the six periods of falling rates, the same indices ended lower twice.
Inflation is more than a merely nagging issue. Unchecked, it has the potential to change the market valuation calculus.
The March 15-16 Federal Reserve Open Market Committee could provide insight into how fast the Fed wants to tighten credit in an attempt to ease inflation pressures. The Fed is highly aware of the market's sensitivity to rapidly rising rates, which is why the policy statement language is likely to be guarded. However, we would pay close attention to the market reaction after the March 16 policy statement release.
The sharp rally from the low in February began at what we think represented good interim support around 4,100 in the S&P 500. As noted earlier, however, we would not discount the potential for 4,100 to be undercut before the market achieves a durable bottom.
Patience is Key
March might require having continued patience, but we think underlying economic conditions support the eventual recovery that takes the S&P 500 beyond the most recent 4,818.62 high.
Actions within portfolios this month probably are best directed toward possible sector realignment to account for the effects of higher interest rates and energy costs.
Disclaimer
The information herein is for informative purposes only and in no event should be construed as a representation by us or as an offer to sell, or solicitation of an offer to buy any securities. The factual information given herein is taken from sources that we believe to be reliable, but is not guaranteed by us as to accuracy or completeness. Charts and graphs are provided for illustrative purposes. Opinions expressed are subject to change without notice and do not take into account the particular investment objectives, financial situation or needs of individual investors.
The concepts illustrated here have legal, accounting, and tax implications. Neither Janney Montgomery Scott LLC nor its Financial Advisors give tax, legal, or accounting advice. Please consult with the appropriate professional for advice concerning your particular circumstances. Past performance is not an indication or guarantee of future results. There are no guarantees that any investment or investment strategy will meet its objectives or that an investment can avoid losses. It is not possible to invest directly in an index. Exposure to an asset class represented by an index is available through investable instruments based on that index. A client's investment results are reduced by advisory fees and transaction costs and other expenses.
Employees of Janney Montgomery Scott LLC or its affiliates may, at times, release written or oral commentary, technical analysis or trading strategies that differ from the opinions expressed within. From time to time, Janney Montgomery Scott LLC and/or one or more of its employees may have a position in the securities discussed herein.
About the authors