For weeks, the stock market has been concerned about the potential for the Federal Reserve to raise interest rates for the first time since December 2015. History shows that rate hikes, on their own, are not the consistent drag investors often perceive them to be.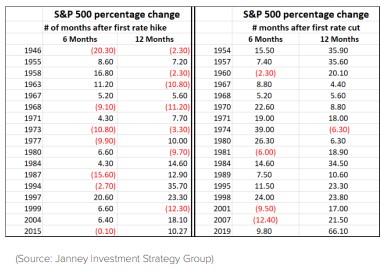 Since World War II, the Federal Reserve has embarked on a rate increase cycle 17 times. Six months following the initial rate hike, the S&P 500 on average was up only 1.3%. However, significant losses in 1946, 1973, and 1987 drove this average down. Minus these three years, the average rises to 4.91%. Post-war inflation, dislocations from an oil embargo and what some people think was simply a Fed error led to the losses in those years.
A similar situation was present 18 months after an initial rate boost. Backing out the post-war losses in 1946, lingering problems from the Vietnam War in 1968 and the 1973 oil situation more than doubles the average gain months after the first rate increase.
There is no doubt, however, that the equity market prefers a falling rate environment. During the 17 rate cutting cycles since 1945, 18 months after the Fed began cutting interest rates, the S&P 500 gain is 3.5 times greater than what was achieved during the 17 rate hike cycles.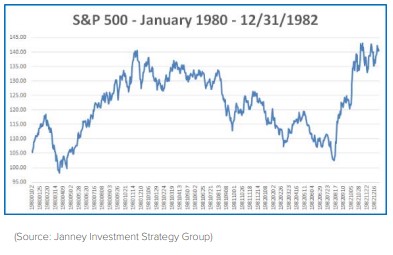 As is true in all data that attempts to assign a likelihood of a market reaction, regardless of how compelling the data might appear to be, it is unwise to assume any signal or pattern always is correct.
Also, rate increases and decreases are cyclical. Investors in the early 1980s struggled through the sharpest interest rate increases since the Civil War that saw the Fed fund effective rate reach 22.36% by July 1981. They also saw this same rate for government paper 13 months later fall more than 50% while the S&P 500 was up 33% through this drastic rate hike and cut cycle.
Disclaimer
This report is provided for informational and educational purposes only and shall in no event be construed as an offer to sell or a solicitation of an offer to buy any securities or a recommendation for any strategy or to buy, sell, or hold any product. Opinions expressed are subject to change without notice and do not take into account the particular investment objectives, financial situation, or needs of individual investors. Employees of Janney Montgomery Scott LLC or its affiliates may, at times, release written or oral commentary, technical analysis, or trading strategies that differ from the opinions expressed here. The information described herein is taken from sources which we believe to be reliable, but the accuracy and completeness of such information is not guaranteed by us. The opinions expressed herein may be given only such weight as opinions warrant. This Firm, its officers, directors, employees, or members of their families may have positions in the securities mentioned and may make purchases or sales of such securities from time to time in the open market or otherwise and may sell to or buy from customers such securities on a principal basis. This report is the intellectual property of Janney Montgomery Scott LLC (Janney) and may not be reproduced, distributed, or published by any person for any purpose without Janney's prior written consent. This presentation has been prepared by Janney Investment Strategy Group (ISG) and is to be used for informational purposes only. In no event should it be construed as a solicitation or offer to purchase or sell a security. Past performance is no guarantee of future performance and future returns are not guaranteed. There are risks associated with investing in stocks such as a loss of original capital or a decrease in the value of your investment. For additional information or questions, please consult with your Financial Advisor.
About the author