Year-to-date by mid-March this year, the S&P 500 was down 11.2%, which was its fifth-worst start to a year. The common belief that when a year starts poorly the full-year result is poor prompted investor concerns. As typically is true in any assessment of how the stock market will react, reaching simplistic conclusions can be dangerous.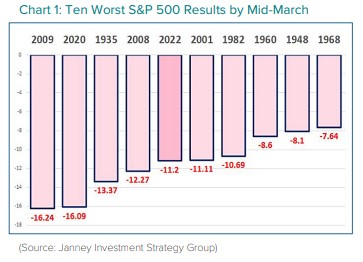 Of the previous nine worst starts to a year, after a poor start, the S&P 500 in seven years spent the rest of March posting gains. In no year, however, was the rally enough to offset the year-to-date loss posted by mid-March
The first three months of many years, however, often do not provide a useful guide to full-year results.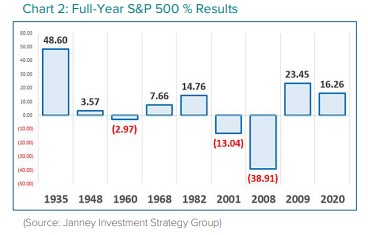 In six of the previous nine years that had the worst starts, the S&P 500 ended the full year with a gain. The beginning-year loss in 2008 ended with one of the all-time worst full-year results as the market and economy were in the midst of the Great Recession. After posting the all-time worst loss to begin a year, the S&P 500 rallied sharply in 2009 as the market began to sense the end of the worst recession since the 1930s.
Prompted by COVID-19, the shortest recession on record shoved the S&P 500 to its low on March 23, 2020, before the index rallied for the third-best annual gain among the years in question.
Major economic events accompanied each of the prior years when the S&P 500 had a poor start:
In 1935, unemployment in the United States had fallen from a high of around 25% down to around 17%, but many people were working only part time and many others had dropped out of the workforce. Industrial production was 25% lower than it was in 1929.
An 11-month recession in which GDP fell by only 2% weighed on the market in 1948. Unemployment was up considerably as former military personnel returned to the job market. At its peak, the unemployment rate reached 7.9% in October 1949.
A 10-month recession in 1960 included GDP declining 2.4%, as unemployment reached nearly 7%.
An economic slump, which began in 1968, was accompanied by the Vietnam War and heightened social unrest.
The stock market suffered in 1982 during what was widely considered to have been the most severe recession since World War II, but dramatic interest rate increases accelerated a market decline.
Recessions or their immediate aftermath largely were responsible for losses in 2001, 2008, 2009, and of course, the virus initially weighed extremely heavily on 2020.
The recently announced change in Federal Reserve credit policy lifted the Fed fund target range by 25 basis points and suggested that more rate boosts are likely in coming months. In our view, however, this credit policy shift should not lead to a recession, but instead should help to ease the recent inflation upswing.
Nonetheless, the slow start to 2022 could generate additional market choppiness in coming months, but a recession that often has led to annual market declines is not likely.
Disclaimer
This report is provided for informational and educational purposes only and shall in no event be construed as an offer to sell or a solicitation of an offer to buy any securities or a recommendation for any strategy or to buy, sell, or hold any product. Opinions expressed are subject to change without notice and do not take into account the particular investment objectives, financial situation, or needs of individual investors. Employees of Janney Montgomery Scott LLC or its affiliates may, at times, release written or oral commentary, technical analysis, or trading strategies that differ from the opinions expressed here. The information described herein is taken from sources which we believe to be reliable, but the accuracy and completeness of such information is not guaranteed by us. The opinions expressed herein may be given only such weight as opinions warrant. This Firm, its officers, directors, employees, or members of their families may have positions in the securities mentioned and may make purchases or sales of such securities from time to time in the open market or otherwise and may sell to or buy from customers such securities on a principal basis. This report is the intellectual property of Janney Montgomery Scott LLC (Janney) and may not be reproduced, distributed, or published by any person for any purpose without Janney's prior written consent. This presentation has been prepared by Janney Investment Strategy Group (ISG) and is to be used for informational purposes only. In no event should it be construed as a solicitation or offer to purchase or sell a security. Past performance is no guarantee of future performance and future returns are not guaranteed. There are risks associated with investing in stocks such as a loss of original capital or a decrease in the value of your investment. For additional information or questions, please consult with your Financial Advisor.
About the author