The Federal Reserve raised its target for overnight interest rates in March 2022, triggering the first rate move since the COVID emergency cuts and the first tightening cycle since the one that began in December 2015.
Fed tightening cycles usually occur alongside strong economic conditions—falling joblessness, improving wage growth, and rising inflation—and they are a normal part of the economic and business cycles. The good news is that the U.S. economy and financial markets went through many tightening cycles before. The not-so-good news is that the 2022 Fed tightening cycle comes amid higher inflation and when record-pace economic growth is slowing.
Background on Fed Tightening
In 1977, Congress amended the Federal Reserve Act to allow the U.S. central bank "to promote effectively the goals of maximum employment, stable prices, and moderate long-term interest rates." At the time, economic consensus held that there was a tradeoff between higher employment and higher inflation, and so when employment conditions improved, the Fed tightened policy by raising interest rates to reduce risks to inflation.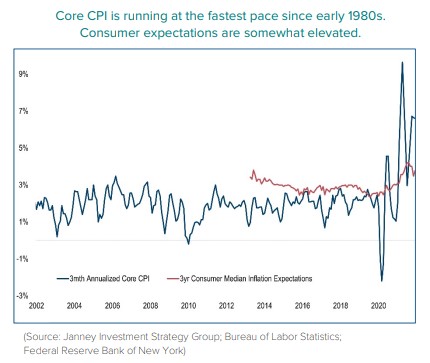 Today, most economists agree that job gains do not always lead to higher inflation, and so that link is a bit more flexible. The contemporary consensus is that the biggest source of higher long-run inflation is, paradoxically, that business and consumer inflation expectations begin to rise. So, instead of reacting to labor market forces, Fed policymakers today have basically waited until higher realized inflation and higher inflation expectations emerged before raising interest rates.
And emerge it has. Between December 2021 and February 2022, the core Consumer Price Index has been running at a 6.6% annualized rate (using a 3-month annualized rate provides a better idea of the current pace of inflation vs. using a year-over-year rate). That pace represents the highest level of inflation since 1982. There are very high odds that much of this inflation fades on its own, with or without Fed action. For example, used car prices have spiked as consumers avoided public transit post-COVID, but that effect is already reversing. Other categories of inflation, such as housing costs, are likely to remain elevated for some years.
However, just as inflation is paradoxically caused by expectations, the Fed is now seeking most of all to reduce inflation expectations by raising interest rates and by shrinking its balance sheet. The tough part is doing all this without slowing economic growth too far, which history suggests is a narrow path to walk.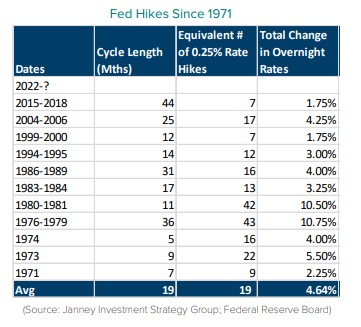 Since 1971, there have been 11 Fed rate-hike cycles— although the dates sometimes run together. Across those 11 periods, the average length of a hiking cycle has been just under 19 months and the average number of 0.25% rate hikes in the cycle has been just over 19 (4.6% in percentage terms). Unfortunately, these averages do not provide much insight since the experiences vary so widely. Since 1983, the average cycle lasted 23 months, with an average of 12 rate hikes at 0.25%, or 3.0% worth.
New Cycle Begins
Contemporary monetary policy tends to feature a more gradual tightening process. There is good reason to think the 2020s rate-hike cycle will be similar, because:
The Fed outlook is better priced in today than in the 1970s, so the markets have already done some of the Fed's work for them.
Intermediate-term inflation dynamics are much more tame today thanks to demographics and globalization.
The Fed does not have to fight popular perception of decades of runaway inflation as hard as it did in the late 1970s. Today, the interest rate markets have priced in seven 0.25% rate hikes.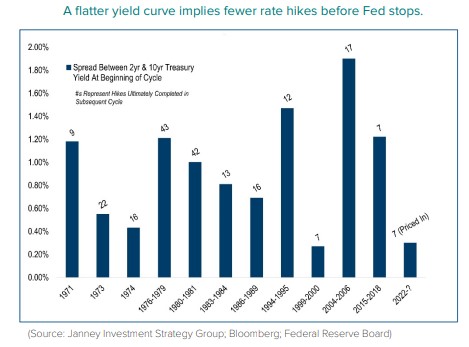 There are also several reasons why the current rate-hike cycle will likely diverge from recent ones:
The steepness of the yield curve (that is, the difference in short vs. long-term interest rates) is unusually low for the start of a hiking cycle.
Fed policymakers have been very vocal about their plans, which has allowed market interest rates to do some of the rate-hike work for them ahead of time.
Measures of financial conditions are unusually tight for a myriad of reasons, which may amplify the effects of rate hikes on things like financial market liquidity.
Immediately before the Fed's March policy announcement, the spread between the 2- and 10-year Treasury yields measured 0.30% compared to a historical average of 0.98% in prior cycles. The reason that narrow spread may matter is that, if it becomes negative and the yield curve inverts with shorter bonds yielding more than longer-term bonds, a recession frequently follows.
When the Federal Reserve tightens monetary policy, many assets take notice. Perhaps most obvious is that ultrashort-term and floating-rate fixed income investments (including money market funds) begin to generate additional income almost in lockstep with Fed hikes.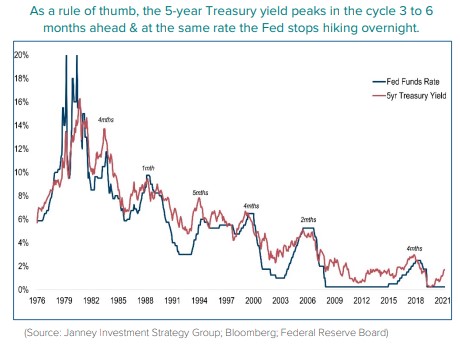 Similarly, yields on 1- to 3-year bonds begin to rise usually ahead of the actual rate hike. The outlook for intermediate to longer-term bond yields is cloudier, however. Yes, short-term interest rates are rising, but long-term inflation—a big component of longer-term bond yields— is usually declining. The mixed impact makes it hard to determine with certainty which way longer-term interest rates will trend in a Fed rate-hike cycle.
A good rule of thumb, however, is that the 5-year Treasury yield will peak at the same level overnight interest rates will. For example, if the Federal Reserve is likely to finish raising overnight interest rates at 2%, it is probable that the 5-year Treasury yield will hover around 2% roughly six months before the Fed gets to peak. This scenario is exactly what happened in 2018, when the 5-year Treasury yield averaged 2.5% ahead of the Fed hitting peak overnight interest rates at 2.5% in 2019.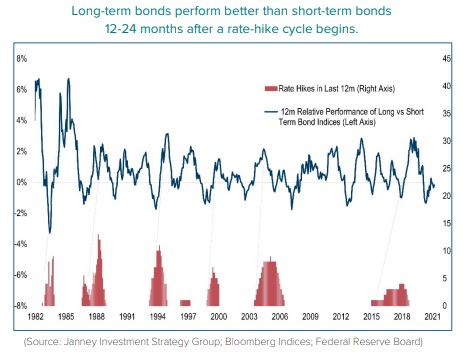 One implication of this rule is that fixed income investors should wait for 12 to 18 months after a first Fed rate hike to add significantly to long-term bond allocations. Every cycle is a little different, but the returns on shorter-term bonds are usually better early in a cycle, while the returns from longer-term bonds start improving later in a rate-hike cycle. In addition, bonds with more credit risk— that is, corporate bonds and muni bonds—tend to perform better early in rate-hike cycles. The main reason is that the Fed typically hikes interest rates when corporate and consumer balance sheets and incomes are strong. As a result, these issuers, in aggregate, have the resources to pay down their debt more easily. Strong fundamentals last at least 12, and more often 24, months into most hiking cycles when economic activity has historically slowed.
All else equal, short-term BBB-rated investment-grade and, for those with the appropriate risk budget, high-yield-rated corporate bonds are some of the best performers early in a rate-hike cycle. So far in 2022, corporate bonds have underperformed. Perhaps in sympathy with falling stock prices or owing to a compounded worry about higher interest rates, corporate bond prices have fallen relative to similar-maturity Treasuries, which offers an unusually good entry point for this early in a hiking cycle. While the equity markets are outside the purview of this note, it does not take much imagination to see how the fundamental conditions (as well as recent price declines) which give rise to good corporate bond returns early in a hiking cycle could also give rise to solid stock market returns as well.
Actionable Investment Ideas
In the last 12 months, the U.S. economy has moved from a position in which policymakers were not even "thinking about thinking about" slowing bond buying to one in which the Federal Reserve is actively pursuing rate hikes. While inflation is uncomfortably high, the strength in the labor markets should be a source of confidence and comfort that the Fed is raising interest rates for the "right" reasons. With that in mind, there are a few ways an investor could think about potentially boosting bond portfolio performance in the early parts of a hiking cycle. Suggestions include: Allocate to floating-rate, shorter-term, and higher-credit-risk securities and avoid longer-term bonds until at least 12 months after a first rate hike.
Please consult with your Janney Financial Advisor for additional information specific to your financial plan.
---
Disclaimer
This report is provided for informational and educational purposes only and shall in no event be construed as an offer to sell or a solicitation of an offer to buy any securities or a recommendation for any strategy or to buy, sell, or hold any product. Opinions expressed are subject to change without notice and do not take into account the particular investment objectives, financial situation, or needs of individual investors. Employees of Janney Montgomery Scott LLC or its affiliates may, at times, release written or oral commentary, technical analysis, or trading strategies that differ from the opinions expressed here. The information described herein is taken from sources which we believe to be reliable, but the accuracy and completeness of such information is not guaranteed by us. The opinions expressed herein may be given only such weight as opinions warrant. This Firm, its officers, directors, employees, or members of their families may have positions in the securities mentioned and may make purchases or sales of such securities from time to time in the open market or otherwise and may sell to or buy from customers such securities on a principal basis. This report is the intellectual property of Janney Montgomery Scott LLC (Janney) and may not be reproduced, distributed, or published by any person for any purpose without Janney's prior written consent. This presentation has been prepared by Janney Investment Strategy Group (ISG) and is to be used for informational purposes only. In no event should it be construed as a solicitation or offer to purchase or sell a security. Past performance is no guarantee of future performance and future returns are not guaranteed. There are risks associated with investing in stocks such as a loss of original capital or a decrease in the value of your investment. For additional information or questions, please consult with your Financial Advisor.
---
About the author