Municipal bonds have faced their third-biggest decline in market value in two decades. Upon first read, this sounds alarming. However, we examine various aspects of the recent muni bond drawdown so investors can have a broad perspective on the situation.
A Distinct Asset Class
Unlike most fixed income sectors, individual investors are the dominant owners within the municipal bond space. Pensions, banks, insurers, and foreign governments all have substantial positions in Treasuries, corporates, and mortgages, but typically avoid holding many tax-exempt munis. Given these ownership characteristics, the municipal bond market is susceptible to investor sentiment. Whereas a pension might have strict allocation rules, most individual investors do not and have a tendency towards herd mentality. In other words, individuals are more likely to withdraw assets from bond funds than are rules-based institutions.
The main reasons why municipal bonds appeal to individual investors are their tax benefits. Munis are particularly attractive to high-net-worth investors, whose practices factor into a unique seasonality characteristic of the muni market. High-net-worth investors typically pay capital gains taxes once a year and often must sell assets to pay those taxes. This is a tax-season hitch that tends to generate outflows from munis leading up to tax time, and inflows thereafter.
The distinct features of the muni market, when combined with a broad interest rate selloff, contribute to a major drawdown like we are currently experiencing.
Role of Interest Rates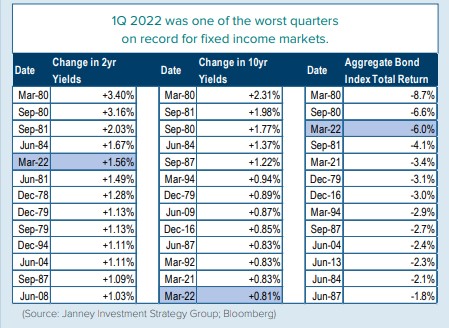 Economy-wide interest rates are a more prominent driver of returns than are muni-specific idiosyncrasies, especially this year. Thus far in 2022, interest rates are up considerably, and the net result is the weakest performance for most major fixed income markets in at least a decade. At the time of writing, the benchmark 10-year Treasury yield was higher by +1.40% in just the first third of the year, and even shorter-term interest rates were up sharply, with the 2-year Treasury yield higher by +1.80%. That increase in yields is equivalent to a -6.7% total return on a 10-year Treasury.
When it comes to the tax-exempt municipal markets, the weak performance of municipal bonds has further compounded the increases in Treasury yields. As the incremental yield of munis relative to Treasuries increased so far in 2022, a hypothetical 10-year municipal bond has seen its price fall about -1% further than the price of a like-maturity Treasury for a total return of -7.7%. The silver lining of 2022's performance is that, while negative returns impair the market value of existing holdings, they do open up the opportunity for higher income generation on new municipal investments and on the reinvestment of principal and interest from existing portfolios.
Previous Market Drawdowns
The most recent drawdown in the municipal bond markets has been historic. Based on the Bloomberg Municipal Bond Index, the muni markets have now been trading 1% or more below their average prior-month's value for 63 consecutive days, which is the third-longest drawdown in recent history. Moreover, the depth of the muni index drawdown, -7.7%, is the worst since the depths of the 2020 pandemic and the 2008 Global Financial Crisis. The drawdown is even deeper than that of the 2010 "Meredith Whitney call," in which a former bank analyst spooked muni markets by warning (proven very wrong) of hundreds of billions of dollars of impending defaults.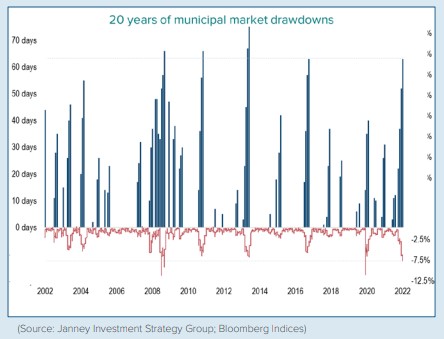 In each of these prior extremes, municipal bonds were performing poorly for much more idiosyncratic reasons. These past instances have mainly stemmed from worries about credit conditions. In 2008, there were fundamental cracks in the financial and economic outlook unseen for generations. Naturally, buyers shunned risk in favor of the absolute safety of Treasuries. In 2010, the Whitney call was essentially bad PR and bad analysis playing into the financial fears of investors fresh out of the Global Financial Crisis. In 2020, the early phases of the coronavirus pandemic had investors withdrawing cash to pay for living expenses. By contrast, in 2022, the municipal market has been all about higher interest rates. Most of the drawdown this year has been spurred by higher Treasury yields, exacerbated in the muni markets by the combination of individual investor psychology and extreme seasonality.
Short-Term Muni Bond Strategy
Going forward, the outlook is mixed. While there are three major reasons to be optimistic, each of these reasons has its own mitigating factor:
Municipal bond market performance after large drawdowns has historically been strong. This theme is likely an outgrowth of the aforementioned herding behavior, as individual investors chase returns. In the 2008, 2010, and 2020 drawdowns, returns measured 10%+ in the subsequent year. The current situation is slightly different, however, as the shift in Federal Reserve policy seems more durable than are the conditions which gave rise to the previous drawdowns.
Interest rate markets have moved far into oversold territory and are likely due for a counter-trend rally. That said, without a large allocation decision from multitrillion-dollar managers, it is hard to have confidence that the move to higher rates is over. Typically, longer-duration bonds start performing well only 12 to 24 months after a first Fed rate hike, but this economic and market cycle is moving unusually fast. At best, our view of interest rates is agnostic for the moment.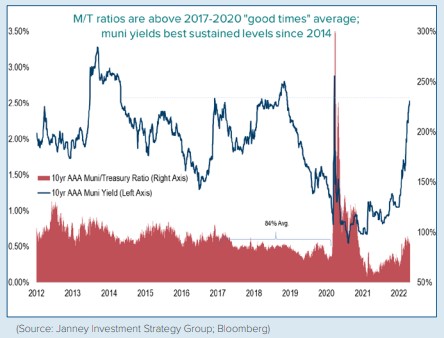 Muni-Treasury ratios, a measure of relative value, are above their recent "good times" average after being unusually tight in much of 2021. Dealer bidding for munis has strengthened in the past two weeks, which should help cap some of the downside in ratios, and seasonality is turning more positive now that the 2022 tax season has passed. The move in yields has been so swift that it may attract some new investment, which could allow munis to at least outperform even if Treasury yields move a bit higher.
Summary
Today, while there remains the potential for a further move in Treasury yields, muni valuations look reasonably attractive compared to recent history and there are early indications that demand is returning to help stabilize those valuations. This demand is buying into tax-exempts at the highest level of income generation on munis since (briefly) late 2018 and before that, since 2014. What separates this year's muni drawdown from previous drawdowns is its genesis: Recent market value declines are about higher interest rates that have impacted Treasuries, corporates, and munis alike. It remains difficult to have confidence that the move towards higher interest rates is complete for the moment, at least until we see a multibillion reallocation into longer-duration fixed income.
---
Disclaimer
This report is provided for informational and educational purposes only and shall in no event be construed as an offer to sell or a solicitation of an offer to buy any securities or a recommendation for any strategy or to buy, sell, or hold any product. Opinions expressed are subject to change without notice and do not take into account the particular investment objectives, financial situation, or needs of individual investors. Employees of Janney Montgomery Scott LLC or its affiliates may, at times, release written or oral commentary, technical analysis, or trading strategies that differ from the opinions expressed here. The information described herein is taken from sources which we believe to be reliable, but the accuracy and completeness of such information is not guaranteed by us. The opinions expressed herein may be given only such weight as opinions warrant. This Firm, its officers, directors, employees, or members of their families may have positions in the securities mentioned and may make purchases or sales of such securities from time to time in the open market or otherwise and may sell to or buy from customers such securities on a principal basis. This report is the intellectual property of Janney Montgomery Scott LLC (Janney) and may not be reproduced, distributed, or published by any person for any purpose without Janney's prior written consent. This presentation has been prepared by Janney Investment Strategy Group (ISG) and is to be used for informational purposes only. In no event should it be construed as a solicitation or offer to purchase or sell a security. Past performance is no guarantee of future performance and future returns are not guaranteed. There are risks associated with investing in stocks such as a loss of original capital or a decrease in the value of your investment. For additional information or questions, please consult with your Financial Advisor.
About the author