It feels like it was only yesterday that the equity market was fixated on an election but with midterm primary elections in sight followed by general elections in November, election issues again will command attention as the market tries to assess how the political winds might affect the economy. Stock market weakness in April increased attention on what the impact of the midterm elections might be.
The battle for Congressional dominance often is the cause of significant anxiety for incumbent members of the House of Representatives and the Senate as they wait to see what grades they received from their electoral constituency. There is plenty at stake in midterm elections. All 435 seats in the U.S. House of Representatives, and 33 or 34 of the 100 seats in the U.S. Senate are up for election. In addition, 34 states elect governors for four-year terms, while Vermont and New Hampshire elect governors to two-year terms in both midterm and presidential elections.
The results of the election midterms are not overlooked by the equity market. Since 1950, the S&P 500 ended with a gain in 13 of the 20 midterm election years. This, however, does not effectively reflect the impact midterm elections can have politically and economically.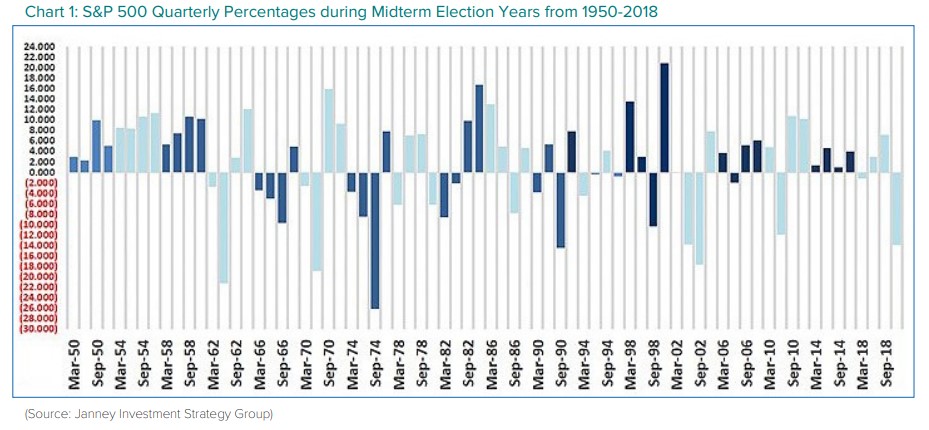 President Dwight D. Eisenhower's landside win in the 1952 election did not prevent his party from losing both House and Senate seats in the 1954 midterm election, but the S&P 500 that year posted its all-time best midterm election result. In 1958, Eisenhower presided over the second-best midterm election year S&P 500 result, but again his party suffered significant House and Senate losses (48 seats in the House of Representatives and 13 Senate seats).
It was 24 years later before the S&P 500 had a gain in a midterm election year (14.76% in 1982). President Ronald Reagan's Republican party lost 24 House seats, but there was some solace for Republicans as this election was the first time that the Republican Party successfully defended a majority in either chamber of Congress since 1928.
After 1982, the S&P 500 had a major midterm election year gain only in 1998. With President William Clinton in the White House that year, the S&P 500 rose 26.67%. Even though Republicans retained control of both chambers of Congress, the midterms that year had an oddity in that the president's party gained seats in the House of Representatives. The president's party did not lose House seats in a midterm election in 1998 and in 2002, when President George W. Bush resided at 1600 Pennsylvania Avenue.
In the wake of the Watergate scandal, in 1974, President Gerald Ford's party lost four seats in the Senate, 49 seats in the House of Representatives, and four gubernatorial elections. The 29.72% loss in the S&P 500 was the worst midterm election loss, although the loss in 2022 was not far behind.
Coming less than 14 months after the September 11 attacks, Republicans gained full control of Congress. It was only the fourth time since the Civil War that the president's party picked up seats in the House during a midterm election. The stock market did not share Republicans' midterm success, however, as the S&P 500 fell 23.37% that year.
Taking out the two best and worst midterm years, the S&P 500 has ended 1950-2018 midterm years with an average 7.67% gain, which when including dividends is not far from the average total return for all years.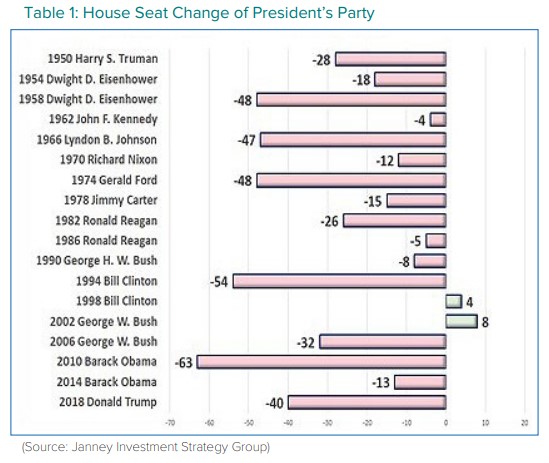 As Table 1 shows, the percentage changes in House seats held by the sitting president in no midterm year reached 15% and the average change for all midterm years was less than 6%.
The more relevant aspect of shifts in Congressional seats is when they change party control.
Democrats lost control of the House in the 1950 election. This did not seem to bother the stock market, as the next year it posted a 16.46% gain.
Clinton's first midterm resulted in his party losing House control, but the next year the S&P 500 gained 34.11%.
The second midterm of George W. Bush's White House tenure saw his party lose House control and then the S&P 500 gained only 4.24% the following year.
The biggest House seat loss that also cost control of the House came in Obama's first midterm election in 2010, as the S&P 500 basically ended 2011 flat. Republicans ceded House control in Trump's first and only midterm election, but a year later the S&P 500 gained 28.88%.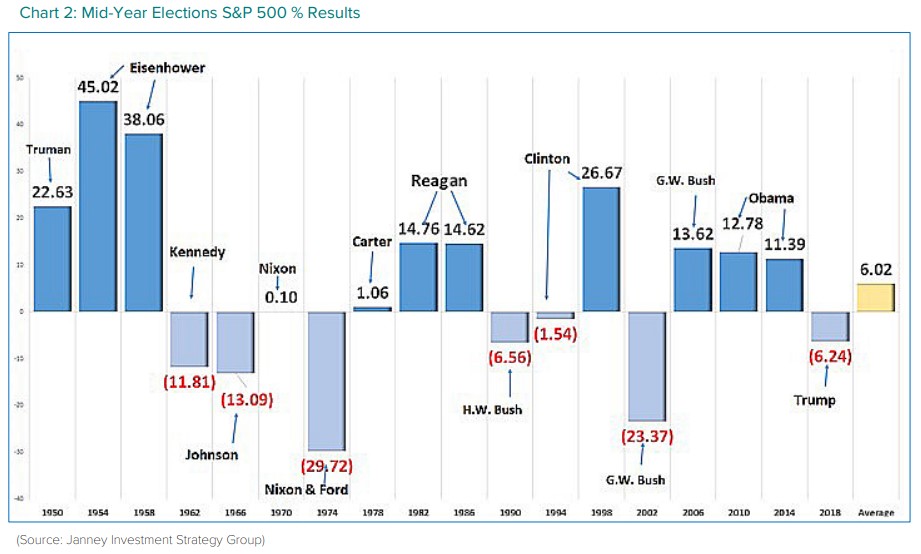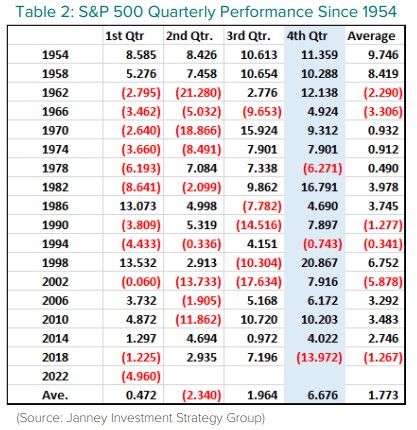 On a quarterly basis, there has been a relatively clear pattern with stock market weakness in the early part of many midterm election years followed by a strong fourth quarter.
The year after a midterm election, the market tends to outperform the midterm years, as the S&P 500 has had gains in 17 of the 19 years after the midterms for an average of 16.36%. In 14 of these years, gains were in double-digit percentages.

The impact of any election on the economy and stock market depends upon individual perspective. Typically, assessing the impact of any election often is not reliably done until many years later.
Midterm elections almost always are drama catalysts, especially when a major shift in the composition of Congress is possible. This year, energy policy, international turmoil, inflation, and Federal Reserve policy promise to make election rhetoric front-page news all year, but many previous midterm years likewise faced potentially derisive issues. In the medium and long-term, however, as a strategist in Bill Clinton's 1992 presidential campaign said, "It's the economy stupid."
Instead of watching political polls, progress in GDP growth might be a better indication of what the makeup of Congress will be.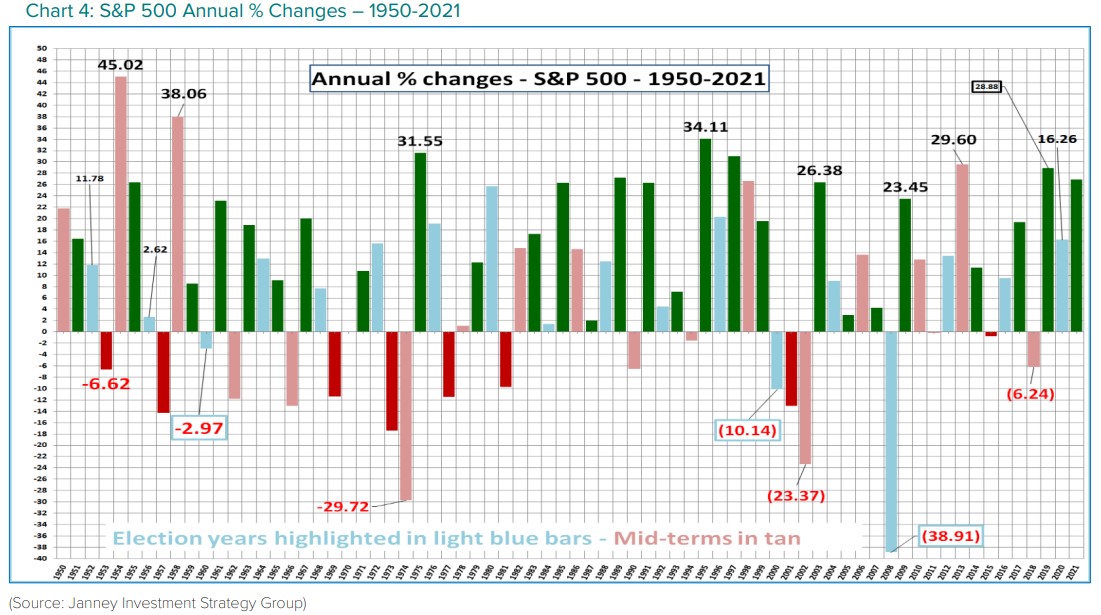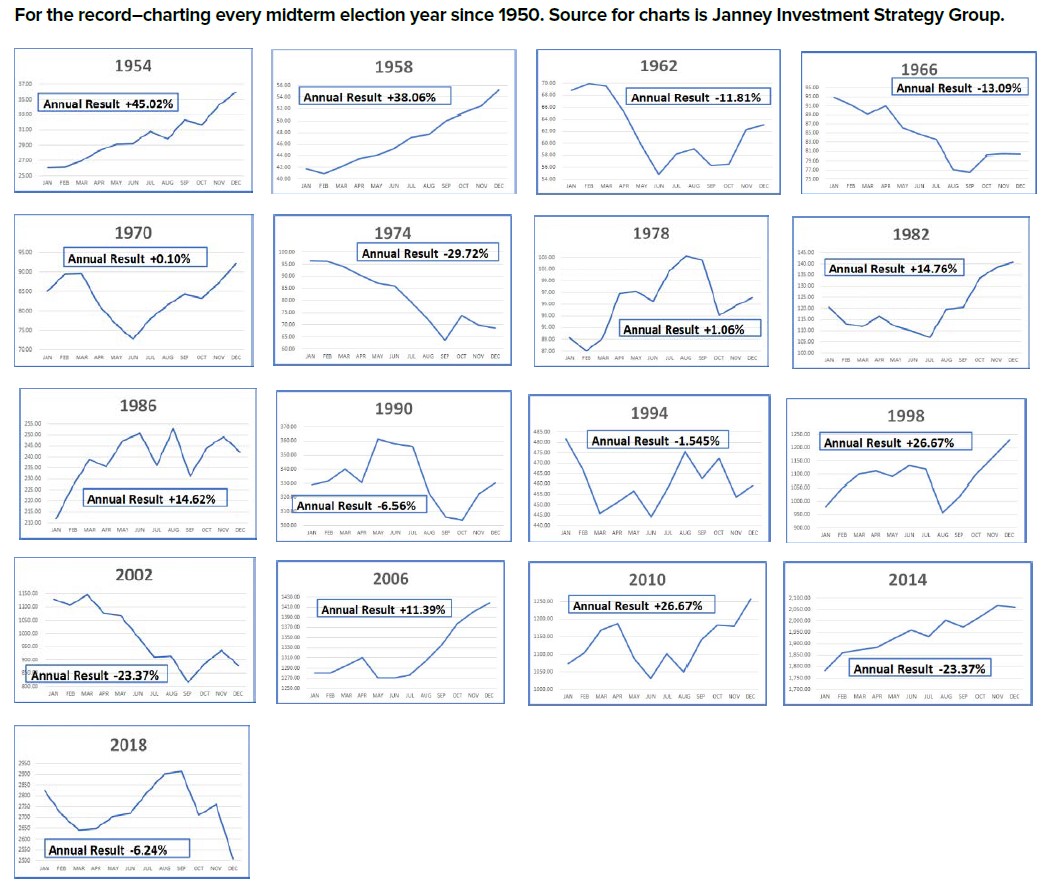 ---
Disclaimer
This report is provided for informational and educational purposes only and shall in no event be construed as an offer to sell or a solicitation of an offer to buy any securities or a recommendation for any strategy or to buy, sell, or hold any product. Opinions expressed are subject to change without notice and do not take into account the particular investment objectives, financial situation, or needs of individual investors. Employees of Janney Montgomery Scott LLC or its affiliates may, at times, release written or oral commentary, technical analysis, or trading strategies that differ from the opinions expressed here. The information described herein is taken from sources which we believe to be reliable, but the accuracy and completeness of such information is not guaranteed by us. The opinions expressed herein may be given only such weight as opinions warrant. This Firm, its officers, directors, employees, or members of their families may have positions in the securities mentioned and may make purchases or sales of such securities from time to time in the open market or otherwise and may sell to or buy from customers such securities on a principal basis. This report is the intellectual property of Janney Montgomery Scott LLC (Janney) and may not be reproduced, distributed, or published by any person for any purpose without Janney's prior written consent. This presentation has been prepared by Janney Investment Strategy Group (ISG) and is to be used for informational purposes only. In no event should it be construed as a solicitation or offer to purchase or sell a security. Past performance is no guarantee of future performance and future returns are not guaranteed. There are risks associated with investing in stocks such as a loss of original capital or a decrease in the value of your investment. For additional information or questions, please consult with your Financial Advisor.
About the author