Stocks remain volatile due to stubbornly high inflation readings that are leading to higher bond yields and Federal Reserve interest rate hikes. In this environment, we are often asked what an investor can do to protect their portfolio's future purchasing power.
We reiterate that owning stocks provides a key factor in maintaining purchasing power, independent of the inflation environment.
Stocks have outperformed every major asset class during long periods of time. The value of $1,000 invested in large-cap stocks in 1926 is worth $10.5 million today. By comparison, an investor getting just inflation as a return would have only $15.5 thousand.
We also note that bouts of stock market volatility, like we are experiencing today, are unfortunately a common occurrence. Since 1980, the average intra-year stock market selloff has been 14%. Importantly, the average full-year return has been 10% over that period.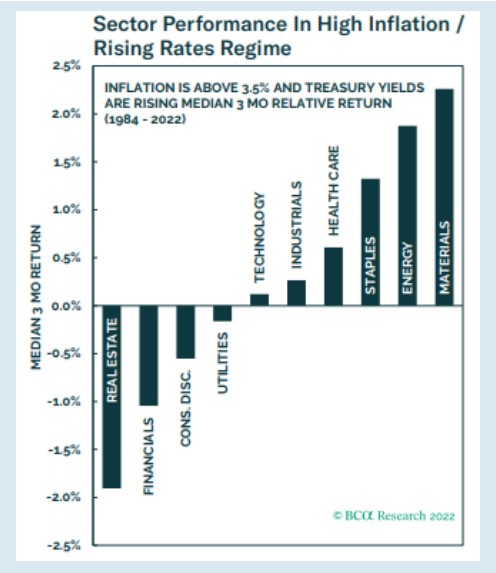 The historical return data also suggests that proper sector positioning can play an important role in maintaining portfolio purchasing power.
Looking at data from 1984-2022, Materials, Energy, Consumer Staples, and Health Care have all shown outperformance when inflation is above 3.5% and Treasury yields are rising—the environment we now find ourselves in (first chart).
Many industries can raise prices to compensate for higher inflation, which enables them to continue growing profits. The Energy sector, with high oil prices tied to inflationary pressures, has significant pricing power in the current environment.
Health Care and Consumer Staples are also currently seeing pricing power improve. These sectors are also considered non-cyclical in that their profits are relatively stable since the products they sell are primarily necessities.
We currently favor Energy, Materials, and Health Care. Profit growth leadership continues to come from the cyclical Energy and Materials sectors. These sectors have also shown stock market performance leadership this year.
The Health Care sector is seeing profits come in better than the broader market and has also outperformed the broader stock market. In addition, valuation for Energy, Materials, and Health Care is more favorable than the broader market—an important attribute in a market that is de-rating highly valued stocks.
There are also powerful secular drivers for these three sectors. Energy and Materials have seen years of underinvestment, which has curtailed supply growth and has led to current pricing power. Significant materials, especially base metals, are needed for the transition to clean energy. The Ukraine crisis has also highlighted the importance of energy and commodity independence.
Aging demographics and increased spending on health care as we age is a strong tailwind for the Health Care sector. All of this supports our favorable view on these sectors.
Meanwhile, consensus is calling for inflation to recede as the year progresses and supply-chain problems are resolved. A significant portion of recent inflation is associated with the pandemic and there are early signs these pressures are receding.
Goods inflation has run high as consumers opted for goods purchases over services (especially travel and leisure) during the pandemic while supply of goods was limited. We are now seeing a shift in spending from goods to services as the pandemic fades.
Accompanying this are signs that overall inflation is peaking. Excluding autos, U.S. retail inventories are about 5% above their pre-pandemic trend which suggests that most goods demand has largely been met. This should ultimately result in lower prices. Indeed, core goods prices fell recently for the first time since February 2021.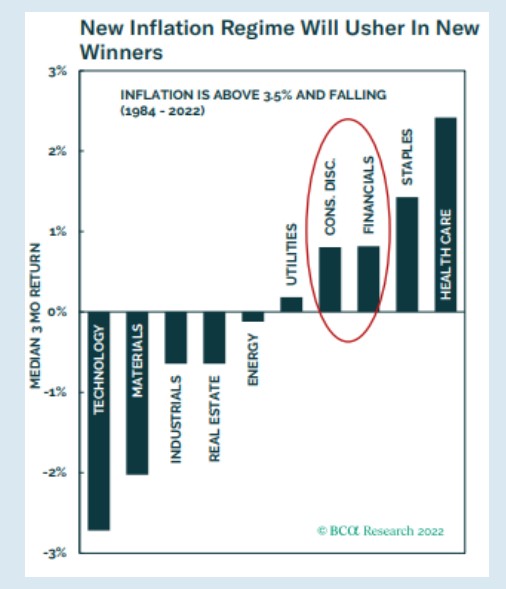 We expect resolution of supply-chain issues as the year progresses, despite the near-term disruption from China's current COVID lockdowns. Hopefully, a stabilization of the Ukraine crisis would also reduce current uncertainty. All of this could set the stage for lower inflation readings in the back half of the year, which would help business and consumer confidence and an improving economic and market outlook.
Inflation concerns are currently outweighing still positive economic readings with key leading indicators suggesting further growth ahead. First-quarter earnings remained healthy with results exceeding expectations, which is leading to modest upward revisions for the remainder of 2022. Consumers and Businesses still have healthy balance sheets and pent-up demand that should continue to be released as the pandemic fades.
With still healthy economic and profit underpinnings, we think reduced uncertainty around inflation and the interest rate outlook would be a key catalyst for a resumption of an upward trend for stocks.
Given that recent readings suggest that inflation may be peaking, a review of sectors that performed well in previous periods of high and falling inflation is useful. Health Care and Consumer Staples again showed outperformance but are accompanied by Consumer Discretionary and Financials for this environment (second chart).
Consumer Discretionary and Financials are major beneficiaries of economic growth and would benefit from a shift from inflation concerns toward still positive economic readings and profitability.
Please see our Sector Strategy reports for additional detail on all the sectors mentioned above.
---
Disclaimer
This report is provided for informational and educational purposes only and shall in no event be construed as an offer to sell or a solicitation of an offer to buy any securities or a recommendation for any strategy or to buy, sell, or hold any product. Opinions expressed are subject to change without notice and do not take into account the particular investment objectives, financial situation, or needs of individual investors. Employees of Janney Montgomery Scott LLC or its affiliates may, at times, release written or oral commentary, technical analysis, or trading strategies that differ from the opinions expressed here. The information described herein is taken from sources which we believe to be reliable, but the accuracy and completeness of such information is not guaranteed by us. The opinions expressed herein may be given only such weight as opinions warrant. This Firm, its officers, directors, employees, or members of their families may have positions in the securities mentioned and may make purchases or sales of such securities from time to time in the open market or otherwise and may sell to or buy from customers such securities on a principal basis. This report is the intellectual property of Janney Montgomery Scott LLC (Janney) and may not be reproduced, distributed, or published by any person for any purpose without Janney's prior written consent. This presentation has been prepared by Janney Investment Strategy Group (ISG) and is to be used for informational purposes only. In no event should it be construed as a solicitation or offer to purchase or sell a security. Past performance is no guarantee of future performance and future returns are not guaranteed. There are risks associated with investing in stocks such as a loss of original capital or a decrease in the value of your investment. For additional information or questions, please consult with your Financial Advisor.
About the author