To indicate his ultimate responsibility for the actions of his administration, President Harry S. Truman famously had a sign on his desk inscribed with the phrase "The Buck Stops Here." In a different context, a buck these days has significant influence investors should not overlook ahead of the second-quarter earnings report period.
When you reach into your wallet to pay for something, you expect the other side of a transaction to accept it without reservation. Seldom, if ever, does either side of a transaction recognize or care that the value of the currency they readily accept literally changes every day, which over time, materially can affect how many bucks leave your wallet.
Supply and demand, which determine the value of any currency in international markets, are guided by several factors.
Currency basically is a commodity with interest rates being a key factor in its relative value. Interest rates rising in one country versus a decrease in another would prompt an increase in the currency of the higher-rate nation. An old cliché—money goes where it is treated best—is a simple way to remember this relationship, as investors sell the currency in the lower-rate country to obtain the higher rates of the other nation.
The state of the economy also impacts the value of a currency. Strong GDP growth in one nation versus another can contribute to the strength of one nation's currency versus another.
While currency changes are not immediately obvious, a consistent change in a nation's currency eventually filters down to prices at checkout counters. This is particularly relevant to a nation like the U.S., where consumers buy large amounts of foreign-made goods.
A rising currency value allows the nation's consumers to pay less for imported goods, but a strong dollar hurts the nation's businesses by making their products less competitive with local rivals overseas. Conversely, a weak currency makes a nation's exports more attractive to foreign buyers, but it also raises prices of goods imported from countries with a weaker currency.
Chart 1: U.S. Dollar Index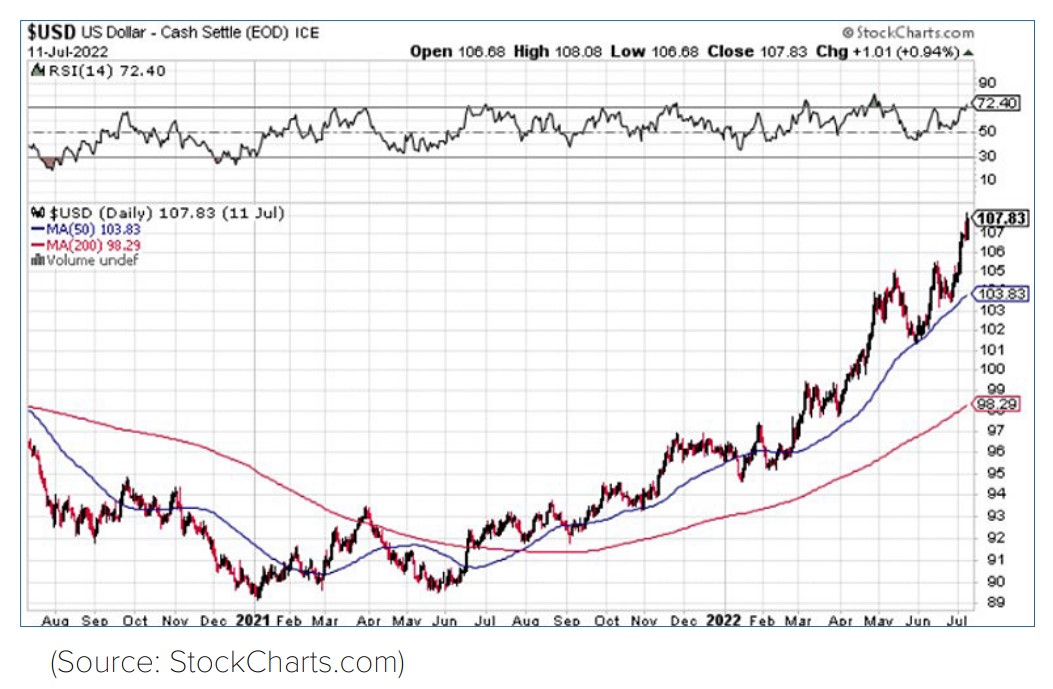 Investors need to be mindful of currency due to the influence it can have on company results.
As Chart 1 shows, the U.S. Dollar Index has risen sharply since June 2021 to reach its highest level in 20 years and approach parity with the euro for the first time since 2012.
It is estimated that more than 40% of U.S. company sales are derived from overseas business. The large rise in the dollar clearly has constrained foreign sales and earnings, which might be a major drag on overall company results.
Chart 2: Year-to-Date 2022 Sector Percentage Changes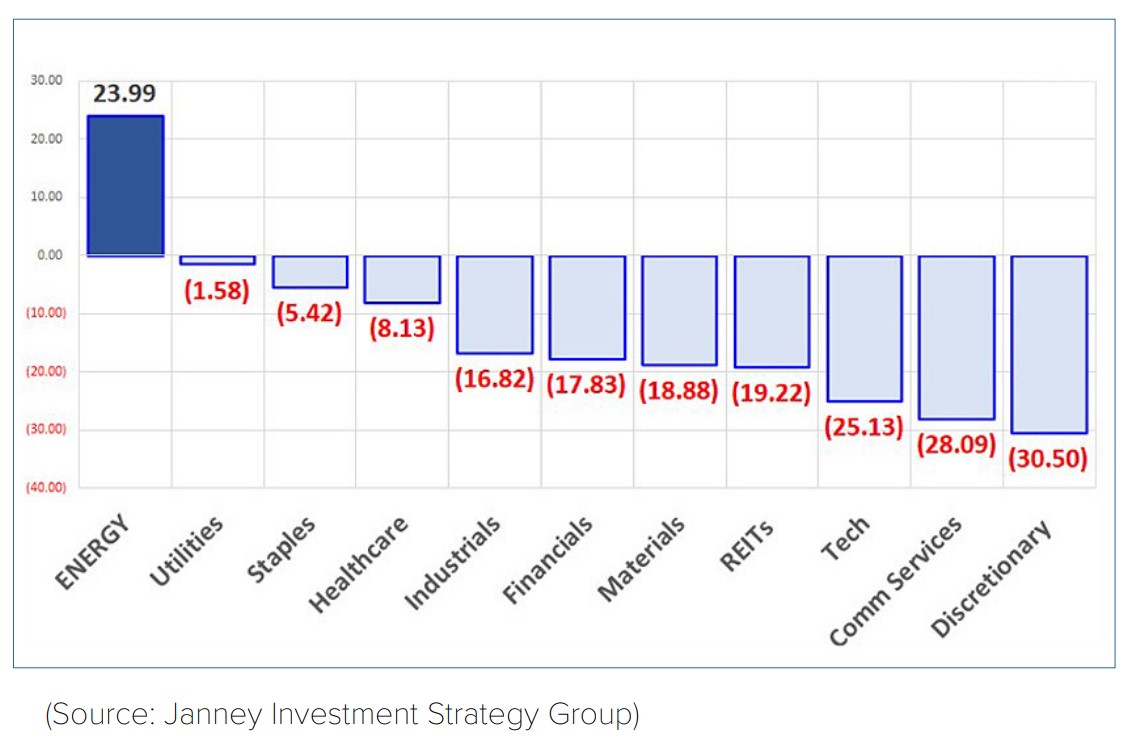 It is likely to be common for companies to report earnings on a "constant currency" basis in an effort to show how they fared independent of currency movements. While this might appear to be a fair way to adjust for currency change, the fact remains that in domestic dollar terms, they earned less than they would have otherwise.
Heading into the second-quarter earnings reporting period, currency effects are likely to be part of hundreds of company results, but large-cap Technology stocks could be the most affected as they have a significantly greater portion of sales to overseas customers. Commodity producers also are greatly influenced by currency changes. To an extent, this has been reflected in the performance of some sectors this year.
We suspect currency effects are likely to persist in quarters immediately ahead. If the Dollar Index tops 110 (108 currently), it might be on its way back to its high in 2002, which would continue to be a drag on sales and earnings for many U.S. firms.
Truman had another phrase that is getting attention lately: "Recession is when your neighbor loses his job. It's a depression when you lose yours."
With the unemployment rate at 3.6% and job gains still robust, neither negative economic condition exists. Nonetheless, increasingly the market is worried that the economies here and in Europe are heading toward a recession. We think the U.S. economy can sidestep a recession or, at worst, have a shallow pullback. More so than in many prior earnings report periods, however, company projections are likely to be consequential.
---
Disclaimer
This report is provided for informational and educational purposes only and shall in no event be construed as an offer to sell or a solicitation of an offer to buy any securities or a recommendation for any strategy or to buy, sell, or hold any product. Opinions expressed are subject to change without notice and do not take into account the particular investment objectives, financial situation, or needs of individual investors. Employees of Janney Montgomery Scott LLC or its affiliates may, at times, release written or oral commentary, technical analysis, or trading strategies that differ from the opinions expressed here. The information described herein is taken from sources which we believe to be reliable, but the accuracy and completeness of such information is not guaranteed by us. The opinions expressed herein may be given only such weight as opinions warrant. This Firm, its officers, directors, employees, or members of their families may have positions in the securities mentioned and may make purchases or sales of such securities from time to time in the open market or otherwise and may sell to or buy from customers such securities on a principal basis. This report is the intellectual property of Janney Montgomery Scott LLC (Janney) and may not be reproduced, distributed, or published by any person for any purpose without Janney's prior written consent. This presentation has been prepared by Janney Investment Strategy Group (ISG) and is to be used for informational purposes only. In no event should it be construed as a solicitation or offer to purchase or sell a security. Past performance is no guarantee of future performance and future returns are not guaranteed. There are risks associated with investing in stocks such as a loss of original capital or a decrease in the value of your investment. For additional information or questions, please consult with your Financial Advisor.
About the author