As the market works through what is often the weakest month of the year, many traders' sights are set on another far more productive seasonal pattern.
Approaching the middle of September, the S&P 500 was on track for better-than-average results for the month despite a disappointing CPI report. Investors, however, soon will be looking ahead to what often mistakenly is characterized as a treacherous trading period. The S&P 500 more often than not ends October with a gain, but the bad reputation for the month comes from the fact that in several years the market has had significantly negative results. These bad Octobers, however, eventually set the stage for major market gains.
Two of the most notably bad October results came in 1987 when the S&P 500 fell 21.76%, and in 2008 when it had a 16.94% loss. Thankfully, nothing has topped October 29, 1929, when the Dow Jones Industrial Average fell 22.6%.
The focus on October's poor results, unfortunately, diverts attention from extremely positive fourth-quarter results in midterm election years, as the 82.35% frequency of fourth-quarter gains in midterm election years is close to the frequency of gains for the two best months of the year—November and April.
S&P 500 Results in the Fourth Quarter of Midterm Election Years'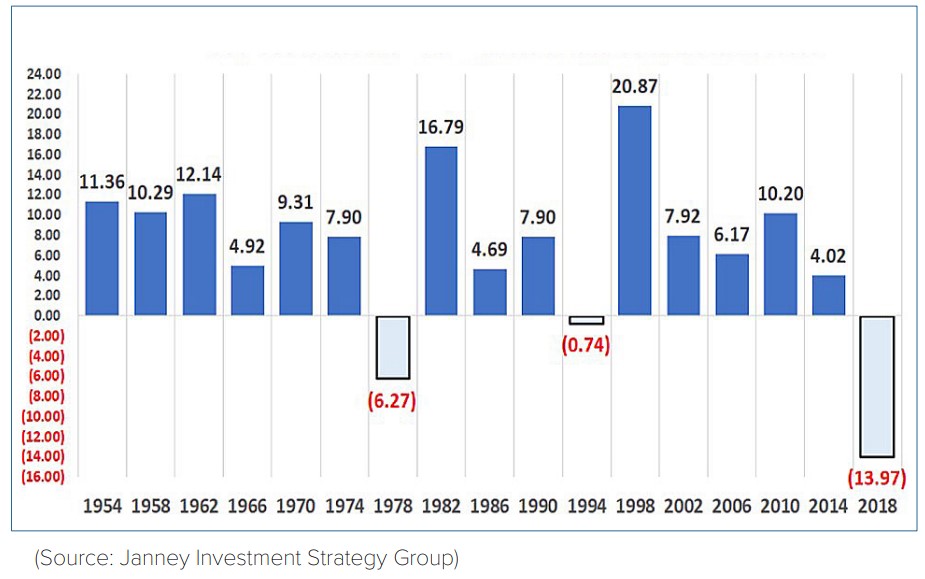 There have been 17 midterm elections from 1954 through 2018. The S&P 500 had fourth-quarter gains in all but three of the years. The S&P 500 average for all final quarters in midterm election years is a positive 6.68%.
The 1978 loss came as the Dow Jones Industrial Average wiped out a monthly gain by falling roughly 10% in the final two weeks of October, when President Jimmy Carter's White House was plagued by high inflation and unemployment.
A decline that began early in October sent the S&P 500 down 15.6% from the beginning of October 2018 to its intraday low December 26, 2018. The final quarter that year was the worst quarterly performance for stocks since the third quarter of 2011, as escalation in the U.S.-China trade conflict reduced monetary stimulus and global economic growth concerns weighed heavily on stocks late in the year.
The S&P 500 in September has not provided a reliable indicator of potential fourth-quarter results. The S&P 500 fell in the three Septembers when the index had a fourth-quarter loss, but it also had a loss in September in nine of the 17 post-1950 midterm years.
Sitting Presidents' Congressional Seat Losses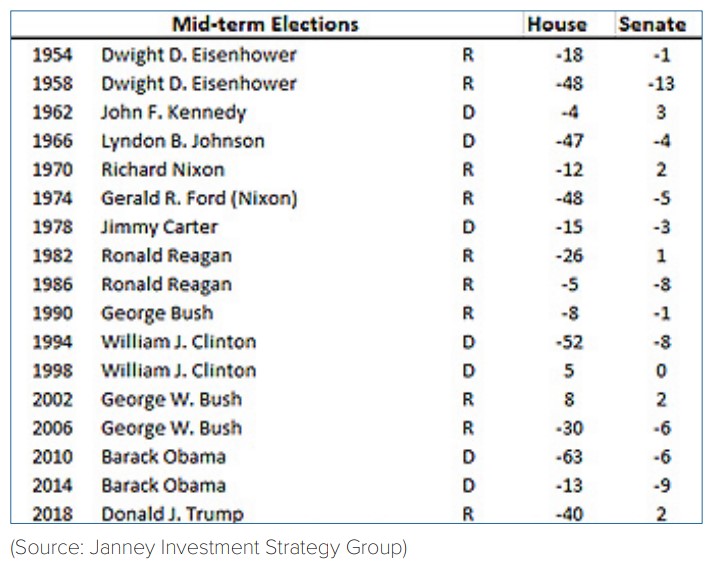 The economy and the stock market suggest ignoring previous midterm election results would not be wise. For example, in 1994, President Bill Clinton's party lost 52 seats in the House of Representatives and eight Senate seats, which some observers felt ushered in a major economic policy shift by the Clinton administration.
During the midsummer pullback that sent the S&P 500 to its most recent closing low at 3,666.77, the index carved out several potentially important support levels should the S&P backslide one more time. The most significant of these is at 3,900, in our opinion.
The market is likely to be choppy through the final three months of 2022, but it also was choppy ahead of the final quarter in many midterm election years before producing positive results for the final quarter. We suspect 2022 could end the way many midterm elections years have previously.
---
Disclaimer
This report is provided for informational and educational purposes only and shall in no event be construed as an offer to sell or a solicitation of an offer to buy any securities or a recommendation for any strategy or to buy, sell, or hold any product. Opinions expressed are subject to change without notice and do not take into account the particular investment objectives, financial situation, or needs of individual investors. Employees of Janney Montgomery Scott LLC or its affiliates may, at times, release written or oral commentary, technical analysis, or trading strategies that differ from the opinions expressed here. The information described herein is taken from sources which we believe to be reliable, but the accuracy and completeness of such information is not guaranteed by us. The opinions expressed herein may be given only such weight as opinions warrant. This Firm, its officers, directors, employees, or members of their families may have positions in the securities mentioned and may make purchases or sales of such securities from time to time in the open market or otherwise and may sell to or buy from customers such securities on a principal basis. This report is the intellectual property of Janney Montgomery Scott LLC (Janney) and may not be reproduced, distributed, or published by any person for any purpose without Janney's prior written consent. This presentation has been prepared by Janney Investment Strategy Group (ISG) and is to be used for informational purposes only. In no event should it be construed as a solicitation or offer to purchase or sell a security. Past performance is no guarantee of future performance and future returns are not guaranteed. There are risks associated with investing in stocks such as a loss of original capital or a decrease in the value of your investment. For additional information or questions, please consult with your Financial Advisor.
About the author