Like many other people, you may worry about your ability to afford retirement. But even when money is tight, there are still ways you can save.
You may be buying things you don't need or carrying an unnecessary balance on your credit cards. Creating a budget that works for your life will help you control your spending and save more money for retirement.
Track Your Spending
First, keep track of what you spend out of pocket each day. Record everything, including purchases that cost only a few dollars. There are apps you can download to your smartphone or online budgeting tools you can use to make this task easier.
Monitor Monthly Expenses
Next, add up what you spend each month on food, housing, transportation, clothing, health care, etc. Also figure out the monthly savings needed to pay bills that come only once or twice a year, such as insurance and property taxes.
Consider Possible Cuts
Once you see exactly where you're spending your money, you can look for areas where you can cut back. Spur of the moment purchases are a good place to make cuts. And if you pay a lot for auto and homeowners insurance or wireless services, shop around for more affordable alternatives.
Build Your Savings
After you have your spending under control, you can start saving more for retirement. Simply increase the amount you contribute to your employer's retirement plan. Over time, even a small boost can make a big difference in the amount you'll have available for your retirement.
Deal with Your Debt
By making a larger credit card payment each month, you'll pay off your balance a lot faster, reduce the amount you spend on interest, and have more money available to save for retirement.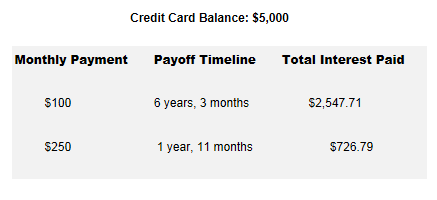 This is a hypothetical example used for illustrative purposes only. It assumes an interest rate of 14% and no new purchases with the card.
Source: DST
Neither Janney nor any of its affiliates or financial advisors provide legal, tax or accounting advice. You should consult your legal and/or tax advisors before making any financial decisions. Janney Montgomery Scott LLC Member FINRA NYSE SIPC