Once again, as has happened multiple times through the years, headlines are increasing about the potential ills of the U.S. running afoul of its debt limit.
This has bred fear among investors that the supposed dire circumstances could decimate the economy, the equity market, and their portfolios. Historically, these worries have led to outcomes far removed from what these fears would suggest.
Fear repeatedly has produced nearly ideal conditions for equity and bond investors.
Current economic, market, and legislative conditions most closely resemble those in 2011, with the party controlling the executive branch facing a politically split Congress. The clash of ideologies about government spending in 2011, which also is a key issue now, threatened to lead to the unthinkable that the U.S. ever would fail to make good on its indebted obligations.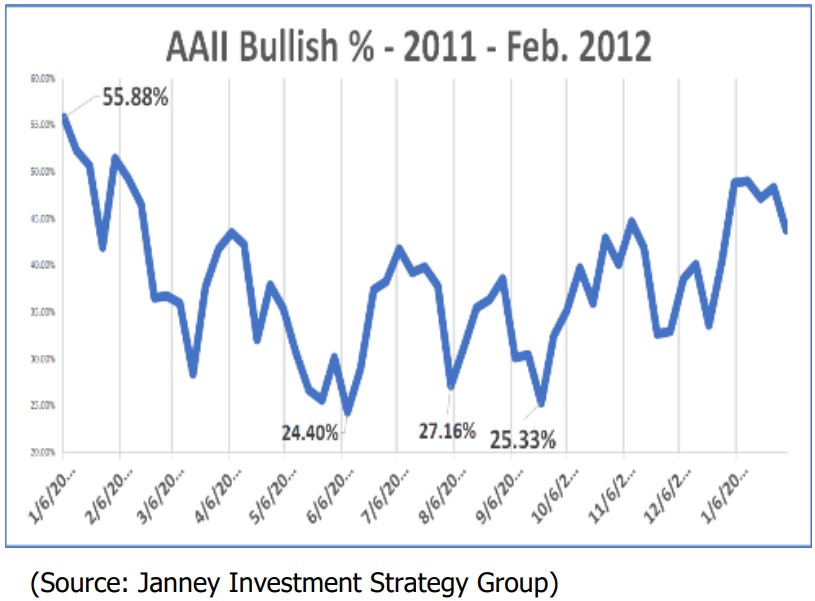 The fear of a default was palpable in 2011, which was best expressed by the widely followed sentiment measures. The American Association of Individual Investors (AAII) sentiment survey showed a majority of survey participants holding a bullish market view. As both the temperature and default worries heated up by mid-summer, the percentage of bullish investors was less than half what it was on New Year's Day.
Not surprisingly, the equity market reflected the sentiment deterioration as the S&P 500 fell 21.58% from its intraday high May 2, 2011, to its intraday low set October 4, 2011. By September 14, 2012, the S&P 500 had shaken off the debt ceiling and related worries to post a 37.2% gain from the October 4, 2011, low.
Investors seeing the drop in the S&P 500 from early August to its ultimate low might argue that selling and rebuying would have made sense then and perhaps it would now if the debt ceiling debate intensifies. This, of course, implies impeccable timing. Even selling just before a market drop, investors are faced with the second and equally important decision of when to go back into the market.
As the AAII sentiment data show, sentiment around the final market low in 2011 was extremely low, which for most market timers would have prevented them from recommitting funds. As the rally unfolded, they likely would be afraid that a second downturn could move the market to its ultimate low, which they probably would not recognize already had been reached. Massively elevated volume around the time of the market low confirmed that, as often happens, many investors panicked at or near the low.
The wise course of action historically and we think now is to stay the course and be watchful for opportunities a downturn might produce.
This report is provided for informational and educational purposes only and shall in no event be construed as an offer to sell or a solicitation of an offer to buy any securities or a recommendation for any strategy or to buy, sell, or hold any product. Opinions expressed are subject to change without notice and do not take into account the particular investment objectives, financial situation, or needs of individual investors. Employees of Janney Montgomery Scott LLC or its affiliates may, at times, release written or oral commentary, technical analysis, or trading strategies that differ from the opinions expressed here. The information described herein is taken from sources which we believe to be reliable, but the accuracy and completeness of such information is not guaranteed by us. The opinions expressed herein may be given only such weight as opinions warrant. This Firm, its officers, directors, employees, or members of their families may have positions in the securities mentioned and may make purchases or sales of such securities from time to time in the open market or otherwise and may sell to or buy from customers such securities on a principal basis. This report is the intellectual property of Janney Montgomery Scott LLC (Janney) and may not be reproduced, distributed, or published by any person for any purpose without Janney's prior written consent. This presentation has been prepared by Janney Investment Strategy Group (ISG) and is to be used for informational purposes only. In no event should it be construed as a solicitation or offer to purchase or sell a security. Past performance is no guarantee of future performance and future returns are not guaranteed. There are risks associated with investing in stocks such as a loss of original capital or a decrease in the value of your investment. For additional information or questions, please consult with your Financial Advisor.
About the author