The cap-weighted S&P 500 mostly has remained in a nine-month-long 3,800-4,200 trading range.
In the most recent two months, however, a small group of stocks has allowed the S&P 500 to reach the upper bounds of this range, while an equal-weight version of the index has struggled. As of the date of this report, 50.8% of the S&P 500 had year-to-date losses ranging from as little as a fraction of a percent to as much as 52%.
The recent dramatic outperformance of a small subset of the market has drawn intense interest, particularly after the same groups of stocks suffered through a difficult 2022 and the early part of this year. On average, the stocks listed in Chart 1 as a group, year-to-date as of May 18, 2023, had an average gain of 55.62%. They are only 1.59% of the number of issues in the S&P 500, but they are 25.93% of the market value of the index.

This has led to the capitalization-weighted S&P 500 having a year-to-date gain 6.6 times more than the equal-weight S&P 500 Exchange Traded Fund (ETF), while the tech-heavy Nasdaq Composite had a gain 2.27 times greater than the cap-weighted S&P 500 and 15 times more than the equal-weight S&P 500 ETF.

Disparities like these are both extreme and usually unsustainable, but they resulted from investors seeking growth potential as the overall economy languished. Interest in artificial intelligence (AI) exploding added to the buying rush.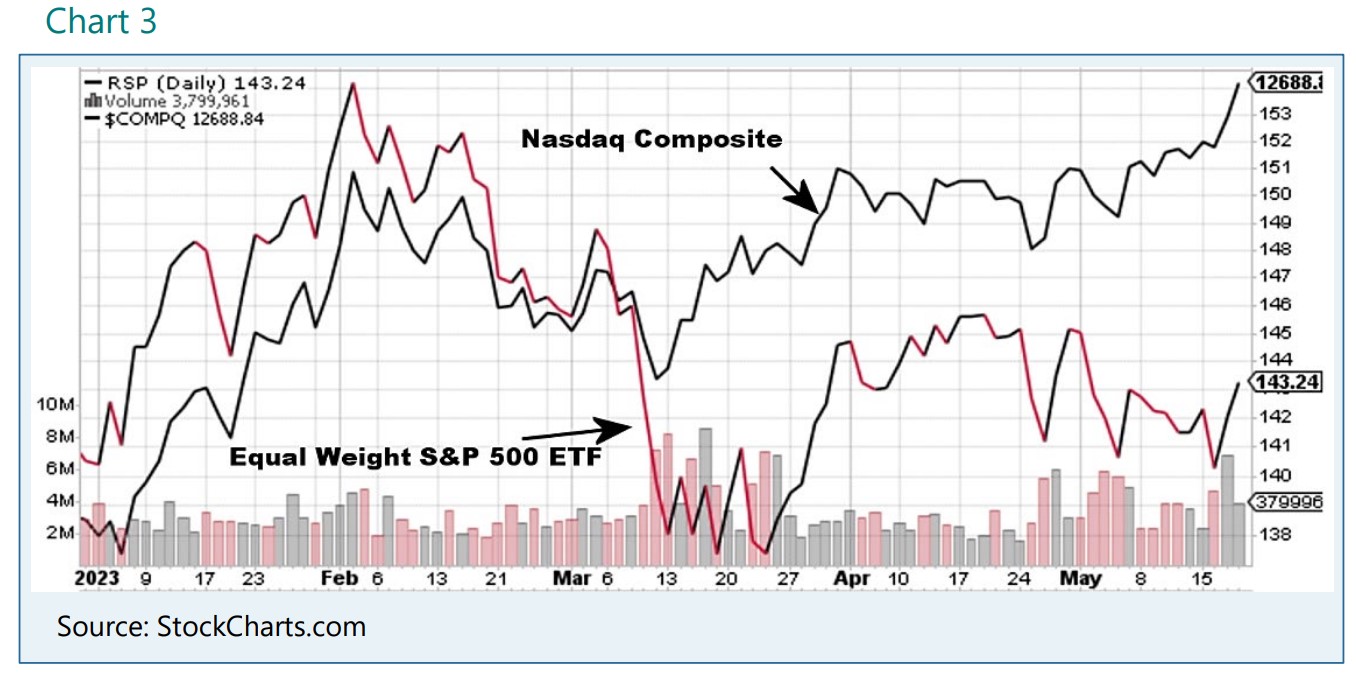 Valuations for many of the stocks that have significantly appreciated recently are relatively high, but dramatically lower than those in the late-1990s tech bubble. However, the biggest U.S. stocks are up significantly more than the rest of the market this year and trade at a 30 price-earnings ratio compared to approximately 17 for rest of the S&P 500.
The current AI mania that sparked much of the recent activity is reminiscent of the internet in its earliest development, when even the remotest connection to the internet generated gains in related stocks. Undoubtedly, AI has enormous potential—possible even much more than the market is now considering, but even the most significant ideas often take many years to develop. It took decades, for example, for the internet to be widely adopted.
Many of the stocks that are thought to be involved in AI development are significantly stretched, while some do not deserve to even be in the conversation.
Caveat emptor is appropriate now.
This report is provided for informational and educational purposes only and shall in no event be construed as an offer to sell or a solicitation of an offer to buy any securities or a recommendation for any strategy or to buy, sell, or hold any product. Opinions expressed are subject to change without notice and do not take into account the particular investment objectives, financial situation, or needs of individual investors. Employees of Janney Montgomery Scott LLC or its affiliates may, at times, release written or oral commentary, technical analysis, or trading strategies that differ from the opinions expressed here. The information described herein is taken from sources which we believe to be reliable, but the accuracy and completeness of such information is not guaranteed by us. The opinions expressed herein may be given only such weight as opinions warrant. This Firm, its officers, directors, employees, or members of their families may have positions in the securities mentioned and may make purchases or sales of such securities from time to time in the open market or otherwise and may sell to or buy from customers such securities on a principal basis. This report is the intellectual property of Janney Montgomery Scott LLC (Janney) and may not be reproduced, distributed, or published by any person for any purpose without Janney's prior written consent. This presentation has been prepared by Janney Investment Strategy Group (ISG) and is to be used for informational purposes only. In no event should it be construed as a solicitation or offer to purchase or sell a security. Past performance is no guarantee of future performance and future returns are not guaranteed. There are risks associated with investing in stocks such as a loss of original capital or a decrease in the value of your investment. For additional information or questions, please consult with your Financial Advisor
About the author