We examine the plausibility of avoiding a recession this year, what happens to the bond market now that the debt-ceiling saga ended, and what's expected to weigh on the stock market this month.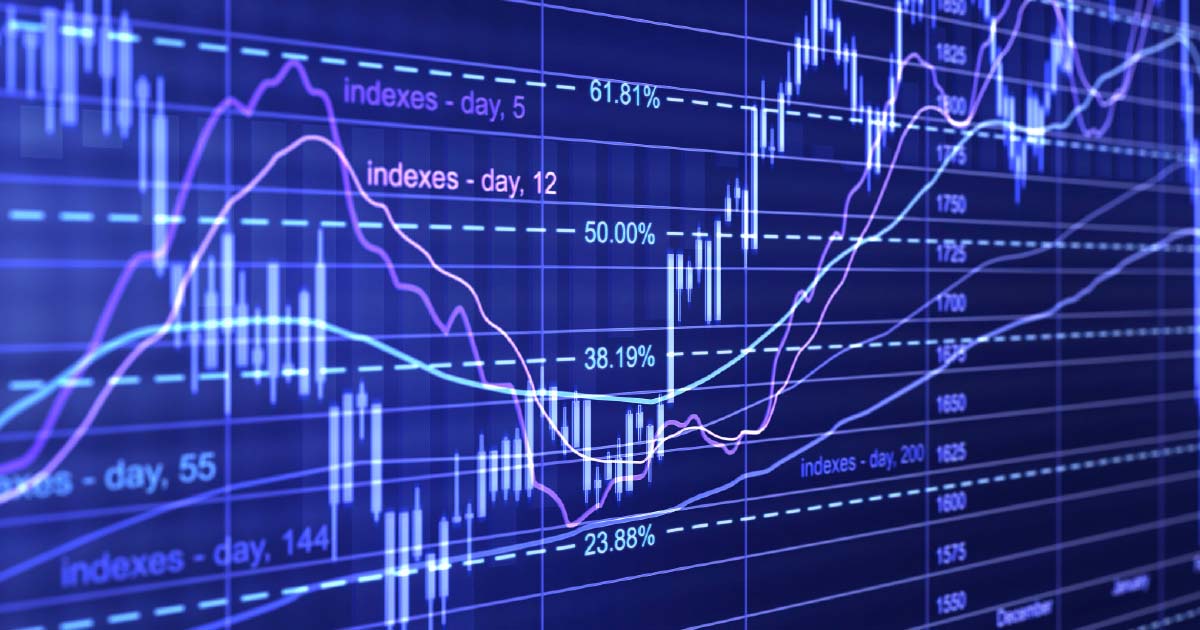 The U.S. Can Avoid a Recession in This Economic Cycle
Mark Luschini, Chief Investment Strategist
We acknowledge the risk of writing another article about the subject of a prospective recession, even if it is a significant issue facing the economy and markets.
After all, many have cried "Wolf!" about a recession, yet the pending start date of it remains elusive. In previous publications, we have postulated that there are three possible economic scenarios that could evolve in the U.S. over the next six to 12 months, by order of likelihood:
A "soft landing" whereby the economy experiences a mild and brief contraction.
A "hard landing" that is a typical recession in which unemployment moves materially higher.
"No landing"—the economy slows to a crawl, but inflation dissipates so rapidly that the Federal Reserve (Fed) can soften its monetary stance before it completely thwarts the demand impulse important for growth.
The last scenario (no landing) is the subject of this article because it is plausible, if improbable, therefore warrants scoring the investment consequences associated with it.
Is "No Landing" Possible?
Some pundits viewed the first-quarter upturn in economic activity as being driven by temporary factors, such as an improvement in real-wage growth from decelerating inflation, less interest-rate uncertainty, and an improvement in economic conditions in Europe and China, to name a few. However, as the calendar nears the end of the second quarter, growth is still relatively robust—the labor market has stayed strong, consumer spending has remained stout, and corporate earnings have come in better than expected. None of this means the risk of a meaningful deceleration in the economy, due to the lagged effects of tightening monetary conditions and the credit restrictions emanating from the banking sector, has completely dissipated.
Rather, we are open to the prospect that a rapid slowdown in inflation over the coming few months, and the demonstrable resilience of the economy to overcome the Fed's interest-rate hikes, could delay the onset of recession beyond the investable window of the next 12 to 18 months. If that is the case, then a premature move to an overly cautious posture would be unwarranted.
Fed's Goals
The "no landing" scenario—a situation in which economic growth slows, fails to contract measurably, then reaccelerates, while the unemployment rate remains flat or modestly higher—is a historical outlier when the Fed embarks on a campaign to quell inflation. However, some leading inputs to inflation suggest it could slow, perhaps meaningfully so, given softening wage gains, falling shelter costs, and hints we may be on the verge of a slackening job market.
While the Fed may raise rates anyway to combat the risk that consumer inflation expectations become unmoored, such action may not need to be taken if inflation's glide path toward the Fed's target of 2% is sufficiently steep and predictable.
Summary
Would a "no landing" economic outcome be positive for investors? All things considered, we think it would be. Such an outcome would validate the idea that the Fed could cut rates outside of the context of recession. This, in turn, would be supportive of faster profit growth and a higher risk premium for the equity market. This would also entail a more bullish construct on asset allocation and cyclical exposure.
In summary, developments do not yet lead us to conclude the "no landing" scenario is unfolding. However, we have sympathy for the chance that it does and prepare to shift to a more pro-growth, pro-cyclical stance should sign of averting a recession accumulate.
Bills, Bills, Bills
Guy LeBas, Chief Fixed Income Strategist
As June begins, the 2023 debt-ceiling saga ends with the U.S. avoiding default upon the signing of a bill extending the debt limit for two years. So, what happens next for the bond markets?
The answer to that question is bills. Lots of them. Treasury bills (T-Bills), to be more precise. Between June and September, we anticipate the U.S. Treasury will issue between $800 billion and $1.1 trillion of short-term securities, and while there is much handwringing about what this issuance will do to market liquidity, we expect it will end up nothing more than a tempest in a teapot.
Building Back Up
Earlier this year, the U.S. Treasury ran up against the legally imposed debt limit—a ceiling on how much in the way of bills, notes, bonds, and other borrowings the U.S. can owe. Since then, the Treasury has been drawing down on its cash reserves, including funds in the Treasury General Account (TGA) held at the Federal Reserve.
Now that the debt ceiling will be suspended for some time, the Treasury will quickly build back up its cash reserves, starting with its TGA balances. The easiest way for the Treasury to achieve that aim is to issue a large number of short-term Treasury bills in four-week to 12-month flavors, and then gradually issue longer-term notes and bonds to "lock in" their funding in a way that does not disrupt markets.
Chart 1: Treasury Will Have to Rebuild Cash by Issuing T-Bills but Market Impact Likely Limited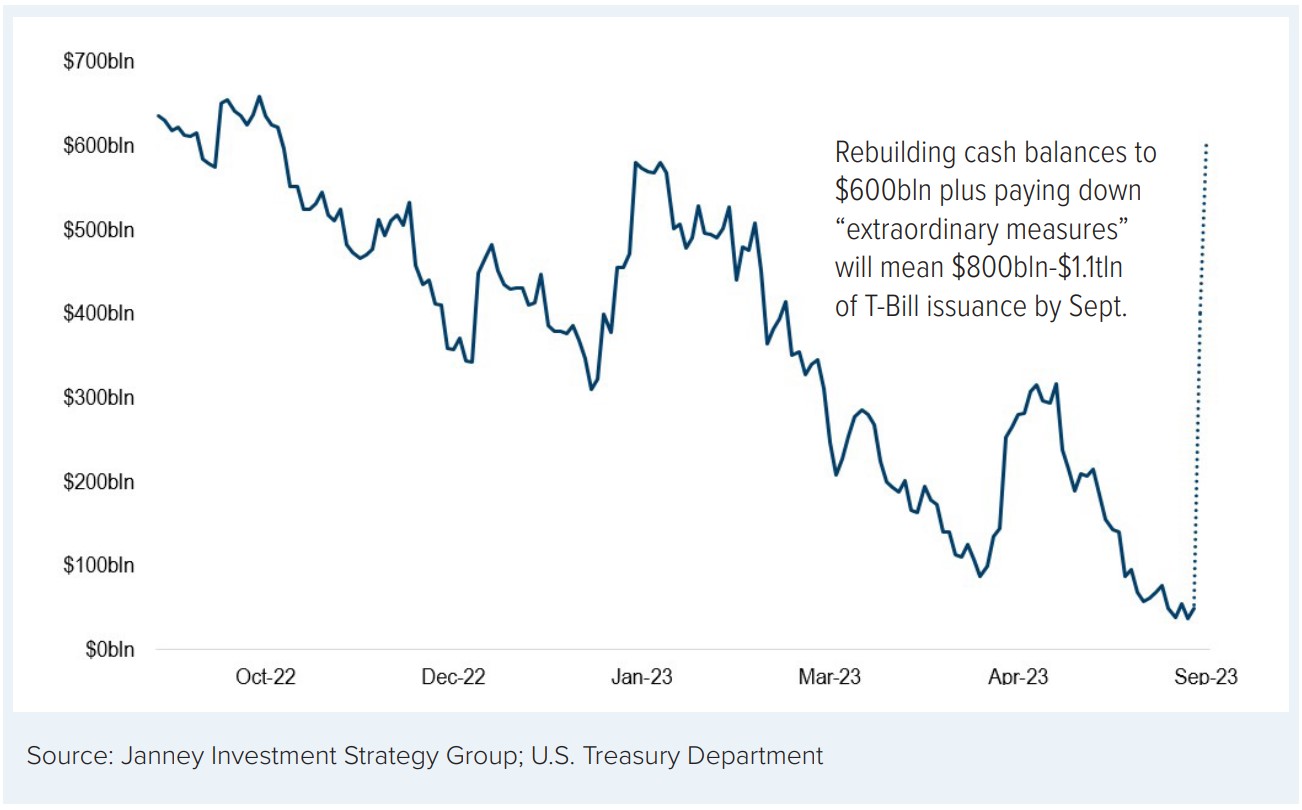 Who Will Buy?
Issuing $800 billion or more of short-term bills has consequences, but probably not very big ones. During the pandemic emergency, the Treasury sold $1.6 trillion of bills in just a few weeks to plentiful demand. At the time, however, the Fed was launching a massive bond-buying program itself. Today, by contrast, the Fed is shrinking its balance sheet and not buying more bonds, so the "net" issuance of T-Bills will functionally be larger.
As a result, it is less clear today where the marginal buyer of these short-term bills will emerge. Some pundits have naively posited that investors will sell stocks to buy this deluge of T-Bills, causing a big drop in equity-market valuations. While intuitively appealing (bearish arguments always seem more serious), this argument falls short in many ways.
First, financial markets are far more segmented than this argument implies. Most equity managers do not simply swing between tech stocks and T-Bills. Second, there is a ready supply of liquidity in money market funds (MMFs). Currently, the five largest MMFs have 40% of their assets parked at the Federal Reserve and only 10% in T-Bills. The reason is that there's a shortage of bills, therefore they have lower yields than do funds parked at the Fed. As the Treasury issues bills, those bills will have to entice investors with marginally higher yields, and MMFs will likely pull some of their investment at the Fed and put the proceeds to work in bills. How much higher yielding will bills have to get to achieve this aim? The Fed is paying 5.05% today, so a rough estimate is that short-term bills yielding 5.15–5.25% would be enough to move plenty of cash.
The Coming Wave
In all likelihood, there will be some marginal effects from a deluge of T-Bill issuance. On the margin, higher T-Bill rates will mean higher rates in longer-term bonds, although our statistical analysis suggests that effect is already priced into today's yields. Meanwhile, a few dollars might flow out of equities into fixed income, but the effect should be small.
In the scheme of risk markets, which seem to swing percentage points per day, T-Bill issuance should represent nothing more than a short-lived scare with no lasting effect.
It's Summertime and Livin' Is Complicated
Gregory M. Drahuschak, Market Strategist
May was a complicated month that provided market bulls and bears with items to support their views, but in the end, the cap-weighted S&P 500 produced a gain that was slightly better than its long-term average. The equally weighted S&P 500, on the other hand, was left far behind.
Chart 2: S&P 500 Large-Cap Index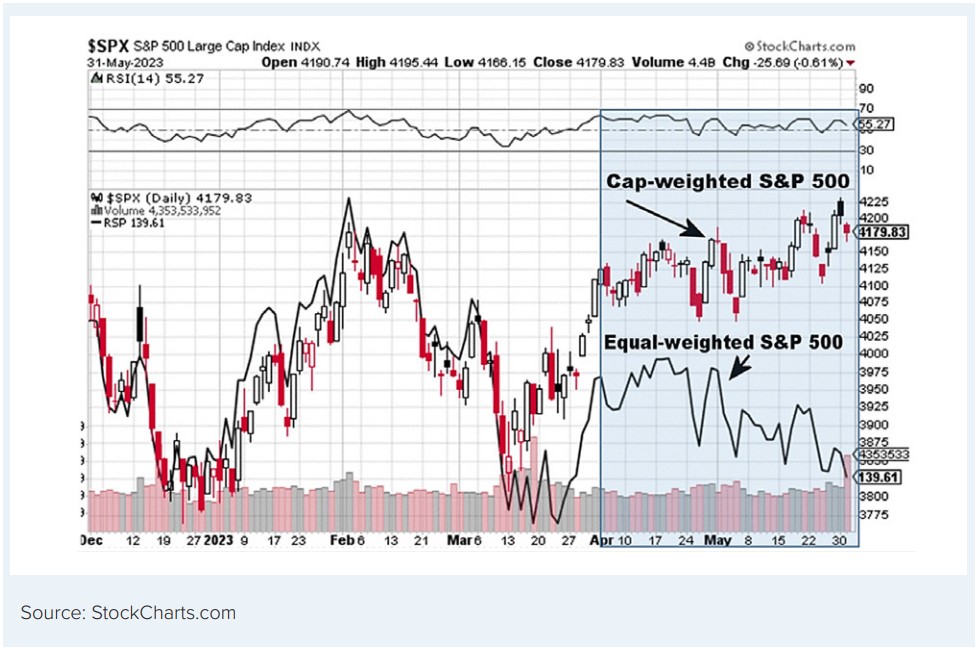 Divergent Market Performance
The performance disparity is further underscored when you realize that as of June 1, nearly 56% of the stocks in the S&P 500 had year-to-date losses, and of the stocks with losses, approximately 19% were down more than 20% so far this year. Seventeen (17) of the 30 best-performing stocks were technology-related, with average gains of 66% and median gains of 42.5%, led by increases of 167.79% and 124.79%, respectively, for Nvidia (NVDA) and Meta Platforms Class A (META). Only five stocks represent roughly 25% of the entire S&P 500 capitalization.
Crude oil often tracks the stock market, but it also diverted substantially from the S&P 500.
Chart 3: S&P 500/Crude Oil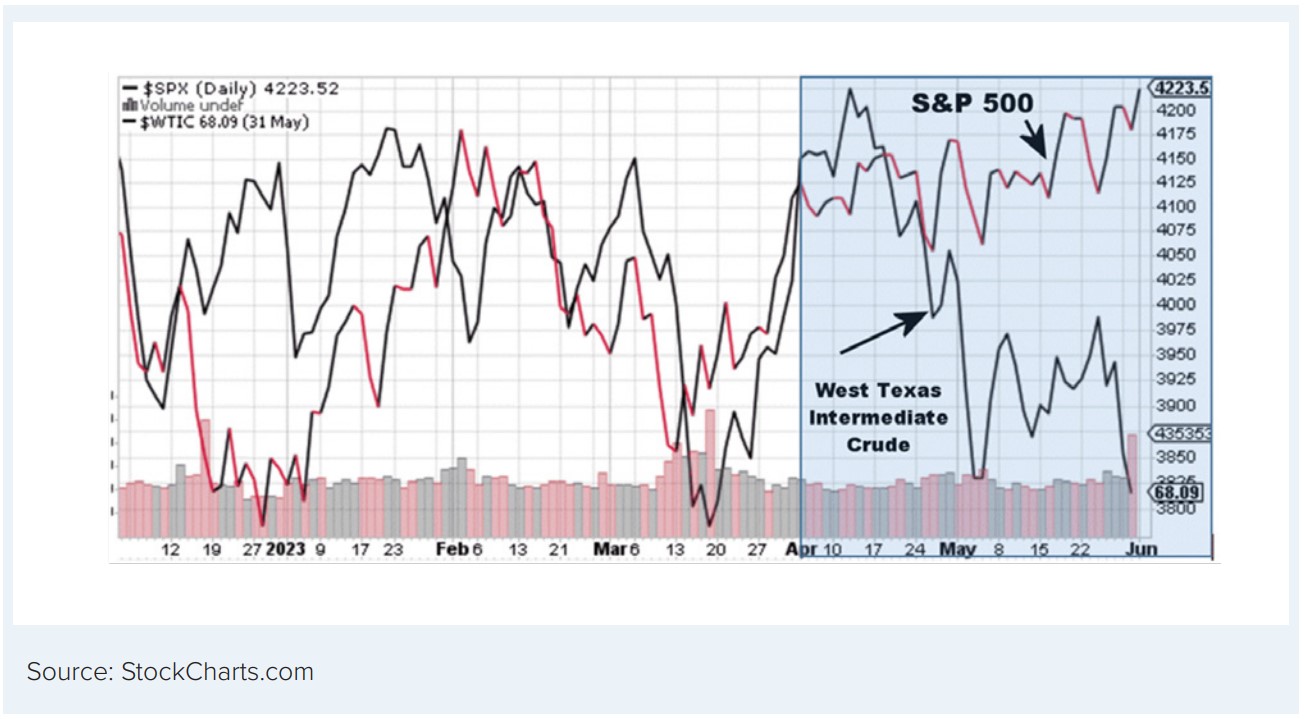 Concentration of interest is equally evident in year-to-date sector results that at the end of May showed dominant performances in Technology, Communication Services, and Consumer Discretionary sectors.
Chart 4: Year-to-Date 2023 Sector Percentage Changes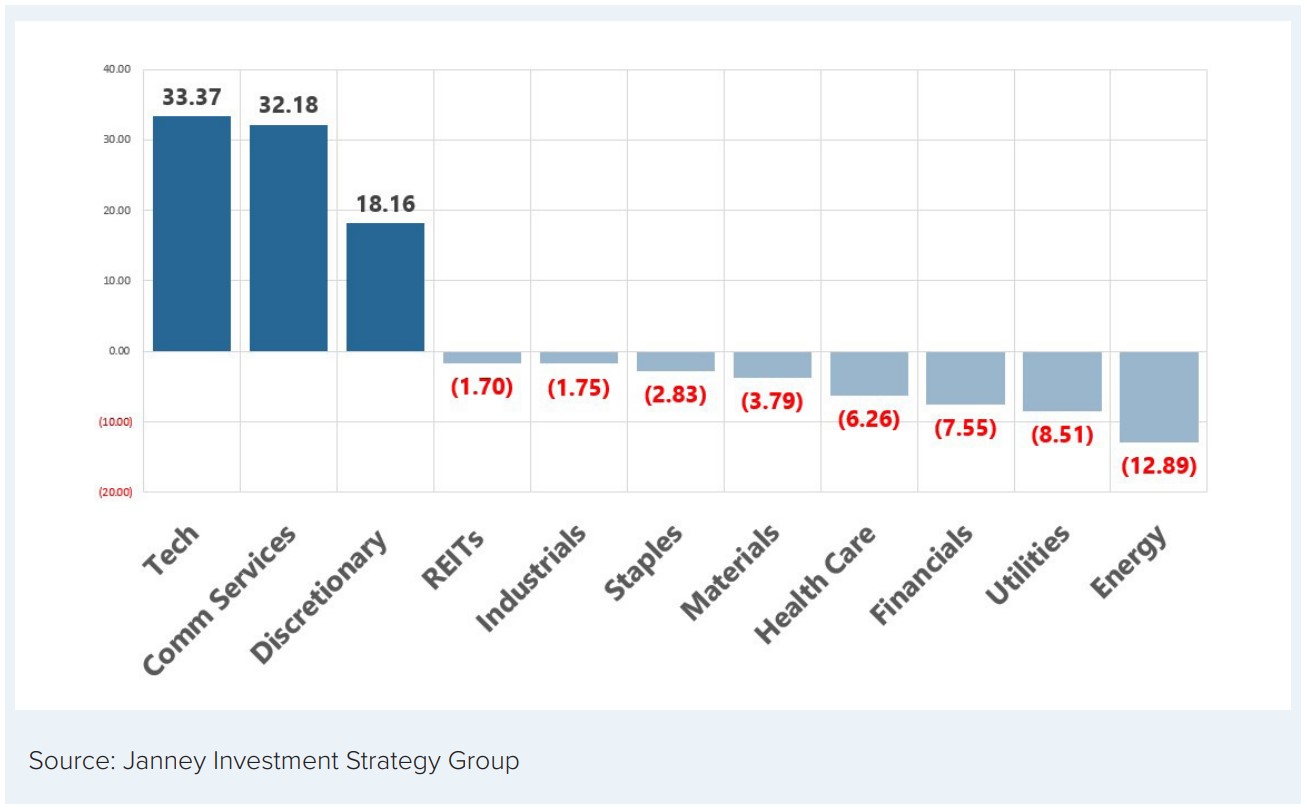 For a time this year, tech stocks were considered to be defensive plays as investors sought growth in a low-growth environment. Once the artificial intelligence (AI) discussion gained momentum, anything tech-related vaulted higher regardless of how distant the connection to AI might be. AI is destined to be an enormous development, but its full value as a profit source is years ahead. Nonetheless, the still growth-starved market reading about the potential for a recession, higher borrowing costs, and high inflation found AI to be a compelling concept.
Fed Policy, Earnings, and More This Month
With the debt ceiling out of the way, Federal Reserve policy and corporate earnings are the dominant issues this month.
S&P 500 earnings this year are currently estimated to be approximately 2% lower than they were in 2022. The initial $244.29 estimate for 2024, however, suggests that earnings could be 11.77% higher than the current 2023 estimate. After a dip in earnings this year, a rebound might appear to be likely, but in our view, the 2024 estimate is aggressive, especially when it relies on 17.4%, 17.3%, and 15.9% increases, respectively, in the Technology, Consumer Discretionary, and Communication Services sectors.
The Federal Open Market Committee (FOMC) meeting on June 14 is likely to be influential because there is still considerable debate regarding what the appropriate credit policy should be, especially now that the inflation rate is easing.
History suggests that being a little cautious in June makes sense as it historically has been the fourth worst month of the year, gaining only 0.3% on average, and posting a gain only 55% of the time. From 2000 through last year, the S&P 500 has posted a June gain in 14 of the possible 23 years, but with a 0.70% average loss.
For months, the S&P 500 was stuck in a 3,800-4,200 range. The range top was first breached on May 19. A pullback then dragged the index close to its 50-day moving average before rebounding to 4,231.10 on May 30. Topping 4,200 was a good sign, but other than on one day, it occurred on light volume, which argues for maintaining a conservative market approach. In addition, the stocks that propelled the S&P 500 higher in April and May technically are overbought. Pullbacks in these issues could weigh on the entire market for a time
The information herein is for informative purposes only and in no event should be construed as a representation by us or as an offer to sell, or solicitation of an offer to buy any securities. The factual information given herein is taken from sources that we believe to be reliable, but is not guaranteed by us as to accuracy or completeness. Charts and graphs are provided for illustrative purposes. Opinions expressed are subject to change without notice and do not take into account the particular investment objectives, financial situation or needs of individual investors.
The concepts illustrated here have legal, accounting, and tax implications. Neither Janney Montgomery Scott LLC nor its Financial Advisors give tax, legal, or accounting advice. Please consult with the appropriate professional for advice concerning your particular circumstances. Past performance is not an indication or guarantee of future results. There are no guarantees that any investment or investment strategy will meet its objectives or that an investment can avoid losses. It is not possible to invest directly in an index. Exposure to an asset class represented by an index is available through investable instruments based on that index. A client's investment results are reduced by advisory fees and transaction costs and other expenses.
Employees of Janney Montgomery Scott LLC or its affiliates may, at times, release written or oral commentary, technical analysis or trading strategies that differ from the opinions expressed within. From time to time, Janney Montgomery Scott LLC and/or one or more of its employees may have a position in the securities discussed herein
About the authors